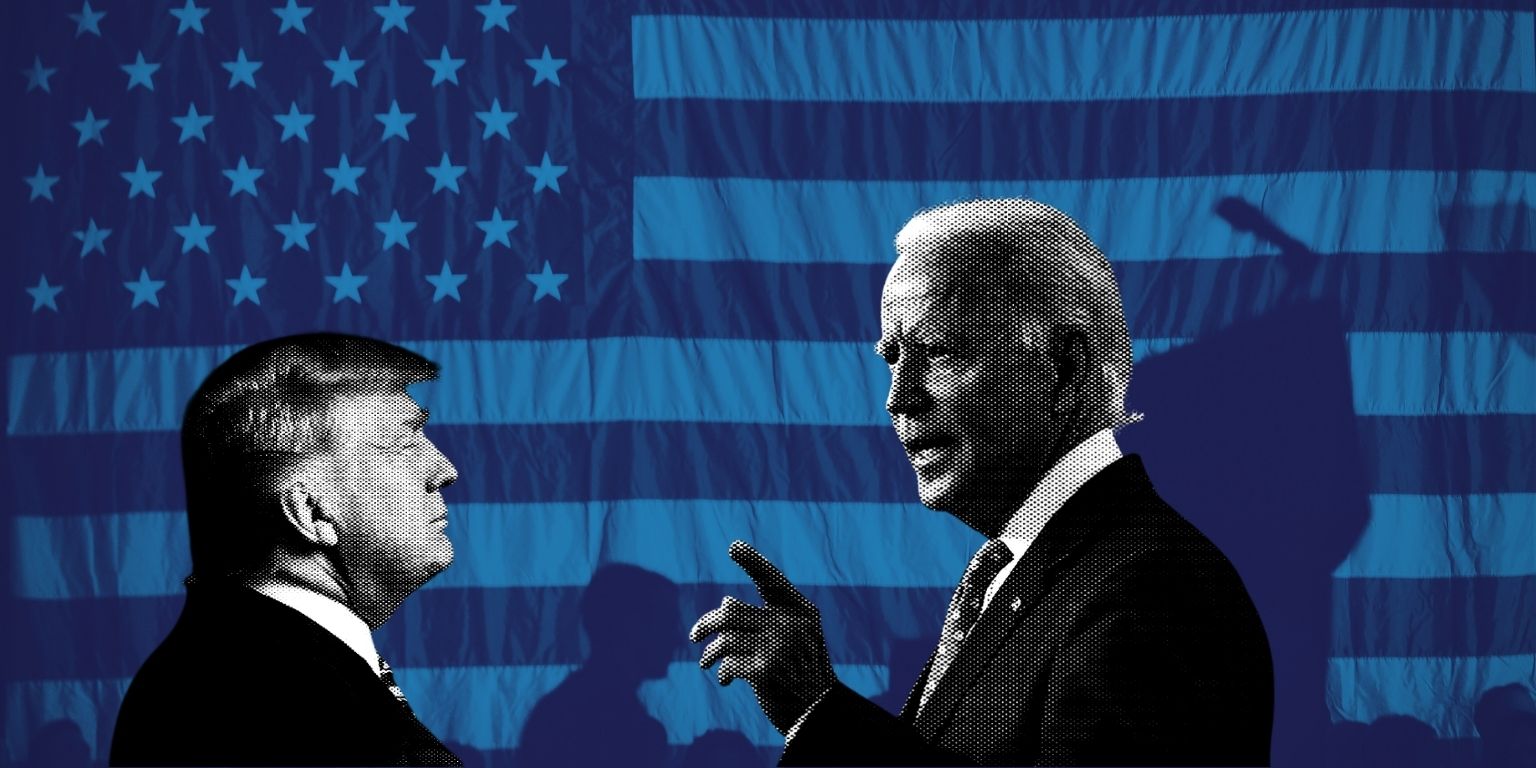 Election 2020: Where do the candidates stand on key issues?
We are fast approaching the November 3, 2020 U.S. Presidential elections, where President Donald Trump seeks re-election and former Vice-President Joe Biden aims to "Build America Back Better." For an overview of where the candidates stand on key issues of immigration, foreign policy, national security, systemic racism and criminal justice reform, and their views on Islam and Muslims, please see below:
Donald Trump
Immigration:
As President, Donald Trump signed an executive order banning individuals from seven Muslim-majority countries from entering the United States. In early 2020, the White House passed an updated Muslim and African Ban on immigration from 11 countries with a Muslim majority or a significantly Muslim population, half of which are located on the African continent. Under Trump, the government has lowered the cap on refugee admissions to 18,000, and the number of Muslim refugees admitted to the U.S. has dropped from 2016 to 2018 by 91%. In September 2020, the government announced plans to cut "refugee admissions to a maximum of fifteen thousand people in the 2021 fiscal year, the lowest level in the four-decade history of modern U.S. refugee resettlement."

When it comes to the southern border, the Trump administration issued a "zero tolerance" policy in April 2018 resulting in the separation of more than 2,600 children from their parents. Additionally, President Trump has also attempted to eliminate asylum, and targeted a number of other immigration programs such as Deferred Action for Childhood Arrivals (DACA) and Temporary Protective Status (TPS).
Foreign Policy
Under Donald Trump, the United States has significantly pulled back from the international stage. In 2016, Trump ran on an "America First" platform, pledging to build a wall, bring troops home, and end U.S. "reliance on China." In retrospect, University of North Carolina at Chapel Hill Professor Richard M. Krasno notes that Trump's foreign policy vision can be summed up in three strands: "disengaging the U.S. from global politics, disdaining allies and befriending autocratic leaders."

Some of the policy decisions made during the last four years include the U.S. withdrawal from the Iran nuclear deal, the Trans-Pacific Partnership (TTP), the 2015 Paris climate accord, the UN Human Rights Council, and the World Health Organization. Other actions throughout the last four years have included carrying out multiple military strikes in Syria, engaging in a trade war with China, and Trump becoming the first U.S. sitting president to set foot in North Korea.
In December 2017, Trump broke with decades long foreign policy by recognizing Jerusalem as Israel's capital, and in May 2018, the Trump White House moved the U.S. Embassy in Israel from Tel Aviv to Jerusalem. Additionally, in January 2020, the Trump administration announced a new Middle East "peace plan" developed without any input from Palestinians and heavily favoring Israel. In September 2020, Trump hailed the 'dawn of a new Middle East' as the U.S. brokered an agreement to normalize relations between Israel and the gulf states of Bahrain and the United Arab Emirates. 
In regards to China's genocidal campaign against Uighur Muslims involving networks of concentration camps, Trump signed the Uyghur Human Rights Policy Act in June 2020. However, it was reported that previously he held off on sanctioning China in an effort to pursue ongoing trade talks. Trump's former national security adviser John Bolton also revealed that the President had actually encouraged Chinese President Xi Jinping to build the concentration camps, stating "Trump thought [it] was exactly the right thing to do."
National security:

Trump has also repeatedly failed to denounce white supremacy and white nationalism. A July 2020 article in VOX noted that while "modern presidents have rejected white nationalism…Trump has advanced its agenda." In 2020 the Southern Poverty Law Center (SPLC) found that "White nationalist hate groups in the US have increased 55% throughout the Trump era."

In 2020, the Department of Homeland Security (DHS)  confirmed that "violent white supremacy was the 'most persistent and lethal threat in the homeland' in an annual assessment." Despite the Trump administration's consistent labelling of Antifa, described by Politico as a "loose cohort of militant left-leaning agitators," as "domestic terrorists," the DHS 2020 draft reports never once mentioned Antifa.

When it comes to the military prison at Guantánamo Bay, President Trump signed an executive order in 2018 to keep the prison in operation indefinitely. During his 2016 presidential campaign, Trump had vowed to refill the prison with "bad dudes" captured abroad.
Systemic racism and criminal justice reform:
As President, Donald Trump signed into law the FIRST STEP Act—a bipartisan federal sentencing and prison reform bill. While the President has claimed he "did criminal justice reform, nobody else," he has also enacted and supported anti-reform policies including reinstating the Department of Justice contracts with private prisons and proposing to eliminate a DOJ office dedicated to help communities reduce racial conflict

Following the May 2020 brutal murder of George Floyd by a Minneapolis police officer, protests and demonstrations sprung up across the country calling attention to systemic racism and police brutality. The President's response to the protests was to support violent police measures against the demonstrations and impose "law and order." A May 2020 New York Times article noted that Trump "seeks conflict" instead of diffusing the tensions, as he "blamed the unrest on Democrats, called on 'Liberal Governors and Mayors' to get 'MUCH tougher' on the crowds, threatened to intervene with 'the unlimited power of our Military' and even suggested his own supporters mount a counter demonstration." 
Just two months before the elections, Trump denounced Critical Race Theory, calling it "un-American," and issued an Executive Order banning "racial sensitivity training" for federal contractors. While Trump has repeatedly claimed he is "the least racist person," a September 2020 article in the Washington Post recorded numerous instances of Trump's "actions as president that have compounded the perceptions of racism created by his words."
Views on Islam and Muslims: 
In his January 2017 inaugural address, Trump promised to "unite the civilized world against radical Islamic terrorism." A week later, one of the first things Trump did in office was sign an Executive Order banning individuals from several Muslim-majority countries. The ban went through different iterations and was ultimately upheld by the Supreme Court.

In office, Trump has repeatedly made anti-Muslim comments aimed at one of the first American Muslim women in Congress, Representative Ilhan Omar. The freshman representative has found herself on the receiving end of the President's racist and anti-Muslim comments. In 2019, President Trump told Rep. Omar and three other progressive congresswomen of color to "go back" to where they came from, even though all are American citizens.

Upon taking the office of the President, Trump appointed a number of individuals who have had a history of making anti-Muslim comments and/or were connected to anti-Muslim organizations. He has also platformed far-right anti-Muslim voices on twitter. In 2017, he retweeted a number of videos from Jayda Fransen, one of the leaders of Britain First, described by an article in the Washington Post as "a neo-fascist hate group." Other anti-Muslim voices Trump has elevated include Katie Hopkins and Paul Sperry. 
Joe Biden
Immigration:
The former Vice President of the United Staes, Joe Biden, referred to the Muslim Ban as "one of his most egregious attacks on our core values," and has committed to rescinding it on day one of his administration. Following President Trump's January 2020 expansion of the ban, Biden responded by calling the action a "disgrace." Biden has also pledged to urge Congress to pass the No Ban Act, and stated he would also raise the cap on refugee admissions to 110,000- the level during the final year of the Obama administration.
Foreign Policy: 
In August 2019, Biden objected to the Israeli government's action barring Congresswomen Ilhan Omar and Rashida Tlaib from entering the country. In regards to Israel and Palestine, an October 2020 piece in Time noted that Biden has "refused to commit to tying U.S. aid to Israel to the country's compliance with international law." When asked about whether he would move the U.S. embassy back to Tel Aviv, Biden stated he would not but noted that "It should not have been moved." The Time article also stated that Biden opposes Israeli settlement expansion.
In a September 2019 response to the Council on Foreign Relations' questions on foreign policy, Biden spoke out against China's "forced detention of over a million Uighur Muslims," saying that he would use the Magnitsky Act to sanction companies "complicit in this appalling oppression." Biden has described China's campaign against Uighur and Turkic Muslim minorities in Xinjiang as "among the worst abuses of human rights in the world today." In August 2020, the Biden campaign labelled China's treatment of the Uighurs "genocide."

In September 2019, the Biden campaign hired Amit Jani as the director of outreach to the Asian-American Pacific Islander community. A 2019 piece in The Intercept noted that Jani has praised Indian Prime Minister Narendra Modi's electoral victory, and was photographed with him in the Virginia Indian-American community's reception held for Modi in June 2017. As chief minister of Gujarat, Modi oversaw mass violence against the state's Muslim population, and his political party, the Bharatiya Janata Party (BJP), has incited violence against Indian Muslims.

National security:

In his "Agenda for Muslim-American Communities" Biden states he will "confront discriminatory policies that single out Muslim-Americans and cast entire communities under suspicion, and he will ensure that our government's engagement with Muslims is not viewed through a security lens."
Historically, Biden has supported the Countering Violent Extremism (CVE) program, which was created in 2011, when he was Vice President. For example, in 2015, he spoke at the 2015 White House Summit on Countering Violent Extremism stating, "police have to build partnerships within religious and business and civic communities." Rights groups, including the Brennan Center for Justice and the American Civil Liberties Union, have noted how CVE programs have been used to surveil and monitor Muslims, resulting in the criminalization and stigmatization of Muslim communities in the United States. In his 2020 campaign, Biden has committed to ending the Trump administration's "Targeted Violence and Terrorism Prevention Program" (TVTP), which is a re-branding of the CVE program. In his policy plan directed at Arab Americans, Biden pledged that his administration would "confront discriminatory policies that single out Arab Americans and cast entire communities under suspicion."

In regards to Guantánamo, when questioned as to why the previous administration did not close the military prison, Biden responded saying, "We attempted to close Guantánamo Bay but you have to have congressional authority to do it. They kept it open. The fact is that we, in fact, think it is an advertisement to creating [sic] terror."

Systemic racism and criminal justice reform:
The second democratic debate held in July 2019 involved discussion around criminal justice reform, with many of the candidates taking aim at Biden's "long, punitive record on criminal justice." A subsequent article in VOX noted that in the late 80s and 90s, Biden had been at the "center of building federal policies that escalated the war on drugs and mass incarceration." Biden had supported the 1994 crime bill that "set strict sentencing standards and, critics have argued, led to an era of mass incarceration." During a May 2019 campaign event, Biden argued the crime bill did not "generate mass incarceration."

Over the last year, Biden has tried to distance himself from his "tough on crime" record and expressed regret over his previous policy positions. In July 2019, his presidential campaign released a criminal justice reform plan that aimed to reverse parts of the 1994 crime bill. The 2019 plan included, "decriminalizing marijuana, eliminating mandatory minimum sentences for nonviolent crimes, ending the death penalty, abolishing private prisons, getting rid of cash bail, and discouraging the incarceration of children." The plan aims to cut incarceration numbers and "root out the racial, gender, and income-based disparities in the system."

Views on Islam and Muslims:
Biden released a specific agenda for American Muslim communities, recognizng that the diverse community has faced "real challenges and threats in our society, including racially-motivated violence and Islamophobia." The plan also stated Biden will commit to tackling hate crimes and also addressing bullying and harassment in schools.

During a July 2020 virtual Million Muslims Vote Summit, Biden stated he wished "we taught more in our schools about the Islamic faith. I wish we talked about all the great confessional faiths. It's one of the great confessional faiths." Additionally, Biden has promised that his Administration "will look like America, with Muslim Americans serving at every level."