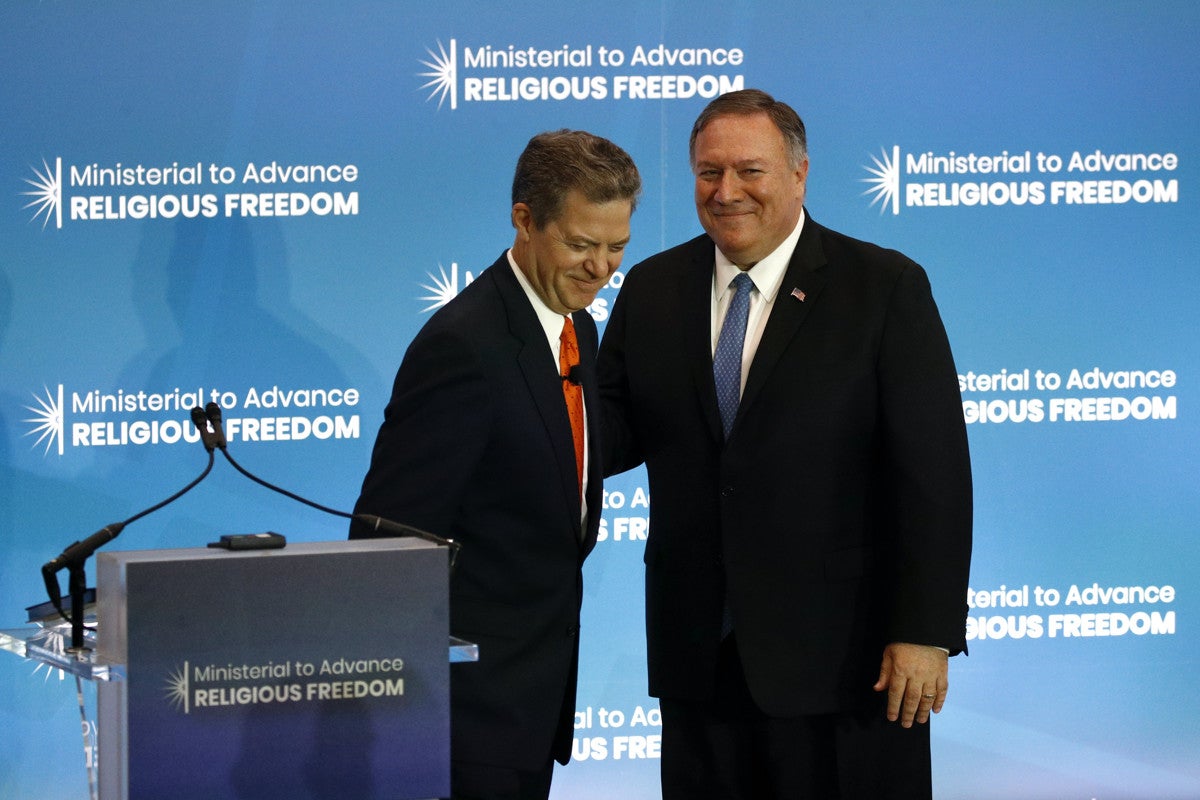 Religious freedom for whom? Islamophobia at the Ministerial to Advance Religious Freedom
Earlier this month, the State Department hosted its second Ministerial to Advance Religious Freedom. Under the leadership of Secretary of State Mike Pompeo and Ambassador-at-Large for International Religious Freedom Sam Brownback, the Ministerial made sweeping calls for the protection of religious freedoms worldwide. Behind these lofty ideals, however, lurked a troubling reality: the conveners of the Ministerial have a long history of denigrating Islam and infringing on the civil rights of Muslims. 
Mike Pompeo: Friend of anti-Muslim activists
In his welcoming remarks, Secretary of State Mike Pompeo stated, "All people, from every place on the globe, must be permitted to practice their faith openly in their homes, in their place of worship, in the public square, and believe what they want to believe." While this statement appears commendable at face value, it bears reminding that Secretary Pompeo's record when it comes to religious freedom is complicated by his anti-Muslim animus. 
While a U.S. Member of Congress from 2011 to 2017, Mike Pompeo worked closely with some of the most anti-Muslim organizations in the U.S., including the Center for Security Policy (CSP) and ACT for America (ACT). From 2014 to 2016, Pompeo appeared numerous times on CSP's radio program "Secure Freedom Radio." In a May 2016 appearance, Pompeo implied that many if not most Muslims pose national security threats to the U.S., stating, "We don't have to say that all Muslims are bad. But…we're going to have to have a broader approach in order to keep Americans safe." 
In February 2015 Pompeo spoke at an invitation-only "counter-jihadist" roundtable that was hosted by CSP. Other attendees included white supremacist U.S. Member of Congress Steve King, Dutch Parliamentarian Geert Wilders (who has advocated banning the Qur'an in the Netherlands and has railed against the so-called "Islamization" of the Netherlands); and the author of anti-sharia model legislation David Yerushalmi. Pompeo has also co-sponsored congressional legislation, in 2014 and 2015, to designate the Muslim Brotherhood a foreign terrorist organization, a move that some have argued would infringe on the religious freedoms of Muslims in the U.S.
In addition to Pompeo's close ties with CSP, he has also been described by anti-Muslim activist Brigitte Gabriel as a "steadfast ally" of her organization ACT for America "since the day he was elected to Congress." Moreover, in 2016 Pompeo was awarded ACT's National Security Eagle Award, which is described by ACT as its "highest honor." Pompeo has also spoken at ACT's annual congressional briefings in 2013, 2015, and 2016, and actually sponsored the room at the U.S. Capitol for ACT's 2016 briefing.
Pompeo's Christianity: A ministry to civilizational divide
In an interview for the Ministerial on EWTN-TV with Raymond Arroyo, a frequent guest on Laura Ingraham's primetime Fox News show, Pompeo discussed what the Ministerial means to him personally and professionally: 
I am an Evangelical Christian. My faith informs my behavior. I hope I can get it right most days. It is special in that it's not about promoting Christianity. It's everyone having this chance. I live in this amazing country that permits me to practice my faith as I see fit.
This statement stands in stark constrast to a vist then-Congressman Pompeo made to a Kansas church in June 2015, in which he stated that "we are engaged in a struggle against radical Islam" and that "this evil is all around us." It is unclear who was the "we" that Pompeo referred to, but what is evident is that Pompeo promoted a common anti-Muslim trope that there is a fundamental, "civilizational" difference between Islam and 'the West.' This common yet prejudiced juxtaposition of a faith with an imagined geography constructs 'the West' as superior, advanced, intellectual, 'Judeo-Christian,' and white/European/European-descendent.
Sam Brownback's religious freedom is not for Muslims and LGBTQIA2S+ communities
The day before the Ministerial began, Ambassador-at-Large for International Religious Freedom Sam Brownback tweeted the following: 
Religious freedom is a beautiful and unalienable human right. It flows from the dignity of each unique soul. Yet too many live under religious persecution. There is work to be done. Ministerial to Advance Religious Freedom week is here. Let's get to work.
As ambitious and well-intentioned as Ambassador Brownback might sound here, his language stands in stark contrast to executive actions he took as Governor of Kansas—specifically, his signing of laws and executive orders to limit the civil rights of Muslims and LGBTQIA2S+ communities. 
In May 2012, then-Governor Brownback signed Kansas Senate Bill 79 into law. This bill was one of many that have been introduced and passed in state legislatures across the country to purportedly ban "foreign law." The underlying goals of such bills, however, are to prevent state agencies and courts from taking into consideration Islamic law, or sharia. According to a 2018 Haas Institute report, the introduction of such bills is part of a larger "anti-sharia movement" comprised of anti-Muslim activists who strive to "embed a fear of 'Sharia law' within American society, and to influence lawmakers to introduce anti-Sharia bills that target Muslims." Such anti-Muslim activists include the aforementioned David Yersuhalmi, the author of anti-sharia model legislation; Brigitte Gabriel, whose organization ACT for America took credit for the passage of Kansas Senate Bill 79; and Frank Gaffney, whose organization commissioned the poll on Muslims, sharia, and jihad that was cited by then-presidential candidate Donald Trump in his campaign pledge to ban Muslims from the U.S.
In March 2016, Brownback also signed into law Kansas Senate Bill 175, which permitted religious groups on publicly funded college campuses to "restrict their membership to students that adhere to a religion's tenets." According to reporting in The Topeka Capital-Journal, the bill's proponents included Republican legislators who claimed that "gays, Muslims or other outsiders could force their way into Christian organizations in ways that compromised religious liberty of core members." 
The list goes on. Then-Governor Brownback also rescinded a state executive order that prohibited "discrimination against most state employees on the basis of sexual orientation." In addition, he issued an executive order titled "Preservation and Protection of Religious Freedom," to shield clergy and religious organizations and leaders from legal action on the basis of denying services such as marriage, charity, housing, adoption, and foster care on the basis of a couples' religious beliefs. 
Brownback does not want refugees, particularly Muslim refugees
At the Ministerial, a reporter asked Brownback about refugee resettlement and how it falls within the purview of religious freedom. Brownback responded to this broad question very specifically, discussing the religious freedoms of Christian refugees in the Middle East. Perhaps this should come as no surprise, as the Trump Administration's Muslim Bans have sought to prioritize the admission of refugees who are Christian over Muslims. In fact, according to DOS data compiled by the CATO Institute, the number of Muslim refugees admitted to the U.S. declined by 91% during Fiscal Years 2016–2018. Moreover, Brownback failed to mention that under his leadership as Governor, Kansas became the first state in the country to withdraw from the federal refugee resettlement program. Like the first Muslim Ban that would soon follow, Brownback cited 'national security' as a primary concern.
But what about Brownback's actions since joining the Trump Administration? Has his tenure as Ambassador of International Religious Freedom softened any of his previous discriminatory and prejudiced positions?
No. It has not.
The religious freedoms of a white nationalist
Last July, Ambassador Brownback intervened on behalf of Stephen Christopher Yaxley-Lennon,  a British white nationalist otherwise known as Tommy Robinson. Robinson, who was incarcerated in the UK at the time, has a robust track record of anti-Muslim, anti-immigration, and far-right activism. He's described Islam as a "disease" and has railed against the so-called 'Islamification' of Europe. Robinson has also claimed that "the current refugee crisis is nothing to do with refugees" and is instead a "Muslim invasion of Europe." Why the U.S. Ambassador for International Religious Freedom was advocating on Robinson's behalf is unclear. Reporting by Mark Hosenball in Reuters put it succinctly: "Reuters was unable to determine why the top U.S. official responsible for defending religious freedom would try to intervene with the British government on behalf of an activist who has expressed anti-Islamic views."
Secretary Pompeo and Ambassador Brownback's statements at the Ministerial to Advance International Religious Freedom ring hollow when examined against the extensive backdrop of their anti-Muslim discrimination and animus. Their definition of religious freedom is not an inclusive one; rather, it is at the expense of the civil rights of Muslim and LGBTQIA2S+ individuals and families.