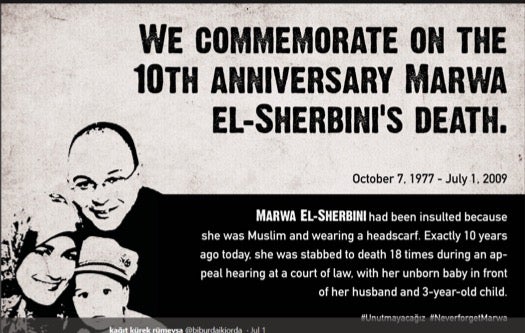 Remembering the Murder of Marwa El-Sherbini: A Symbol of Deadly Anti-Muslim Racism in Germany
It was the 1st of July 2009, 11.07 a.m., when Marwa El-Sherbini was stabbed to death by a white nationalist in the court of the German city of Dresden. The 31 year old observant  Muslim student of medicine, had sued her murderer for verbally abusing her with words such as "Islamist," "terrorist," and "slut" at a public playground.
In court, the German citizen of Russian origin who had insulted El-Sherbini, had positioned himself as a staunch anti-Muslim person and had stated that he would vote for the right-wing extremist National Democratic Party of Germany (NPD). According to him, "When the NPD comes to power, this will end" — referring to Muslim presence in Germany. Following her testimony, the three-month's pregnant pharmacist El-Sherbini together with her husband and their three-year-old son attempted to leave the courtroom, but were fiercely attacked. Marwa El-Sherbini was stabbed 18 times; she and her unborn child died immediately, Her husband was also stabbed trying to intervene, and then shot in the leg by the police who entered the room after an alarm was activated and mistook her husband for the perpetrator.
While media and politicians had originally been quite silent on the attack, especially on its clear and blatant anti-Muslim motive,  Jewish and Muslim voices underscored the hate motive in this murder. Media strongly suggested that the murderer was a foreign immigrant, despite his German ethnic background, thus externalizing the guilt on foreigners and framing the issue not as a German problem. But things have changed.
The anniversary of the murder of Marwa El-Sherbini has become a date that mobilizes thousands of activists. After the German Muslim student union – RAMSA – claimed 1st July as a Day Against Anti-Muslim Racism, similar to the European Action Day Against Islamophobia on 21 September, the day has become widely acknowledged in German civil society and politics. CLAIM, an alliance of anti-Muslim racist NGO's in Germany funded by the federal government, is organizing numerous events to commemorate 1st July. The 10th anniversary has not only seen larger media attention in public service broadcasting, but has also witnessed numerous politicians joining public condemnation of this act and anti-Muslim racism in Germany. The hashtag-campaign #HassHatKeinHerz has mobilized thousands of online activists to commemorate this horrific incident of anti-Muslim murder. Cultural activists such as the most famous German Muslim comedy group Datteltäter had already launched a video to commemorate Marwa El-Sherbini's murder last year. An adult education center in Dresden has presented a photo exhibition that covers 190 victims of right-wing extremist and white nationalist violence between the years 1990 and 2017 to commemorate Marwa El-Sherbini and the constant threat of white nationalism. And politicians of different stripes as well as government bodies commemorate this day of grief.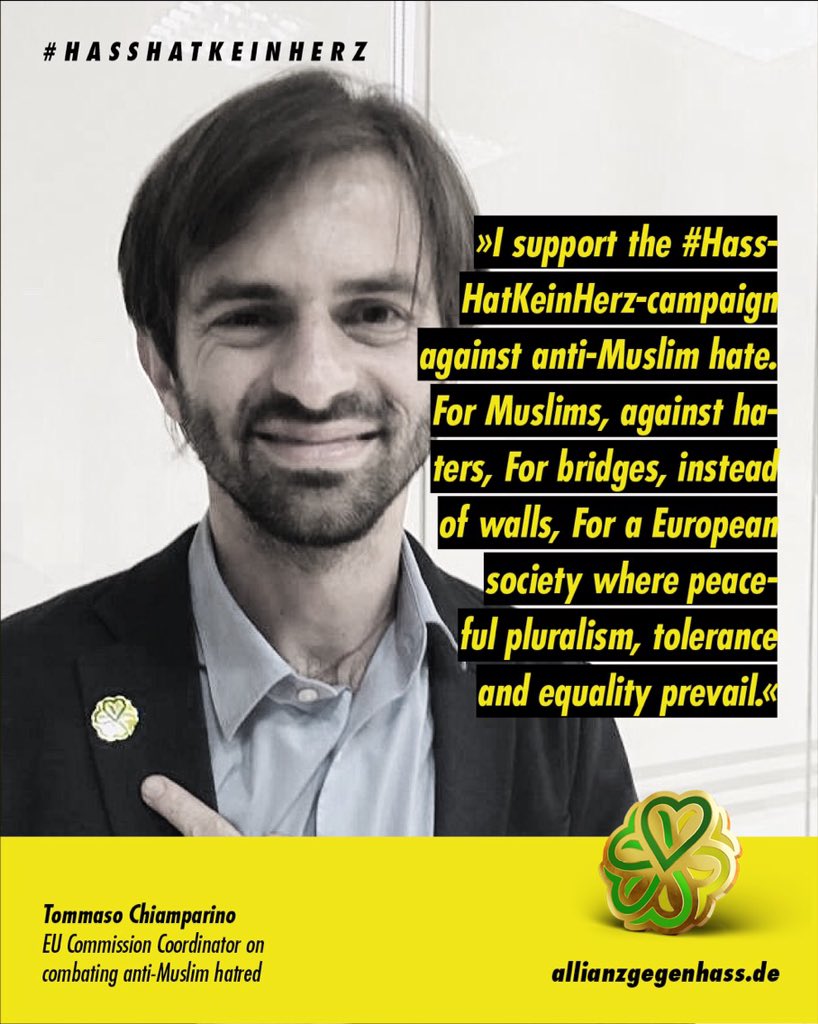 In a way, this has helped German anti-Muslim racist activists to support their case. At the same time,  civil society activism has found a willing partner in some federal German official bodies. Germany has not only recently introduced anti-Muslim hate crime as a separate hate crime category in the official police statistics of "politically motivated criminal acts." It is also one of the few European states that structurally supports NGO's in their fight against anti-Muslim racism. Recently, the alliance against anti-Muslim racism, CLAIM, called for the installation of a federal coordinator against anti-Muslim racism. Germany provides a lesson to be learned from in Europe for creating a consciousness that challenges anti-Muslim racism. At the same time, anti-Muslim racism has become an obvious challenge: From 2014 to 2018, the German institution FAIR, which documents anti-Muslim hate-crime, has registered around 420 attacks on mosques, which reveals the scale of the problem.