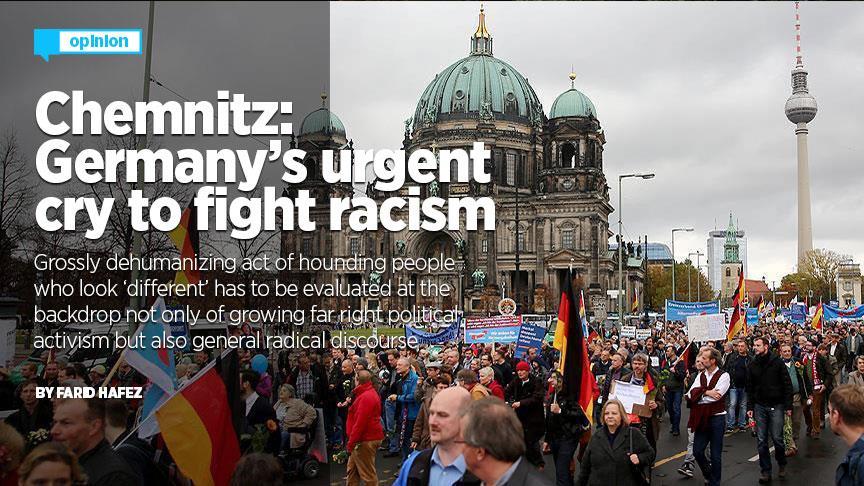 Chemnitz: Germany's urgent cry to fight racism
This op-ed by Bridge Initiative Senior Research Fellow Farid Hafez originally appeared in Anadolu Agency. 
The grossly dehumanizing act of hounding people who look 'different' has to be evaluated at the backdrop not only of growing far right political activism but also general radical discourse
SALZBURG
Last Sunday, a group of 800 people demonstrated in Chemnitz, eastern Germany. The rally was initiated by a right-wing extremist hooligan group called Kaotic. The reason for the mobilization was the killing of a 35-year-old man, who was allegedly German, by two men, a Syrian and an Iraqi, both in their early twenties. Both have been arrested on suspicion of manslaughter. Among the protesters was an estimated group of 50 people who turned violent against people of color. Journalists reported seeing some protesters using bottles to attack people "who did not look German". On Monday, a core group of around 200 right wing extremists gathered for another demonstration, eventually growing to more than 5,000 protesters, while the demonstration was countered by 1,000 people who protested against Nazism. It was later revealed that the person killed was actually a staunch anti-racist with Cuban roots, who was a supporter of the far-left party in Saxony.
One might say that this is a story of Chemnitz or more broadly of the county of Saxony, where the right-wing party Alternative for Germany (AfD) as well as the street-level group Pegida are particularly strong. Pegida had called for demonstrations on Monday. And the AfD, which entered Parliament for the first time with 12.6 percent of the vote, meaning more than 90 seats, is especially strong in Saxony, where it almost doubled its national average by garnering 25 percent of the vote.
Indeed, the Saxon branch of the AfD called for a "spontaneous demonstration" in memory of Sunday's victim, posting on its social media accounts a photo of the blood-spattered pavement where the victim, Daniel H., was stabbed to death. While the AfD did not participate in the larger protest held later in the day, it clearly supported the move to politicize the tragic incident along racial lines. And AfD lawmaker Markus Frohnmaier even went further by arguing that it was a "civic duty to stop this deadly 'knife migration'". While AfD representatives at the federal level condemned this call for "vigilante justice" by Frohnmaier, the latter had already contributed to the emotionally charged atmosphere in Saxony.
To read the full article, click here.