In 2019, Islamophobia Was Normalized by Those in Power
In 2019, hate crimes against marginalized communities continued to rise, but what distinguished the discrimination and violence targeting Muslims was that it was normalized and weaponized by political leaders around the globe. From the United States to China, politicians led Islamophobic campaigns creating great fear and anxiety amongst Muslims around the world. 
United States
Nearly three years of Donald Trump in the White House has resulted in discriminatory policies targeting people of color, immigrants, and Muslims. His antipathy for Muslims and people of color was on full display as the real-estate tycoon levelled attacks at Muslim politicians, particularly Minnesota Representative Ilhan Omar. Throughout 2019, Trump characterized Congresswoman Omar as un-American and anti-Semitic. In response to Rep. Omar's criticisms of the Trump administration's policies, Trump deployed a racist comment, telling her and three other congresswomen of color to "go back" to the countries they came from.

Rep. Omar also faced attacks from anti-Muslim groups that spread dangerous conspiracy theories about her. In March at the West Virginia Capitol, the nation's largest grassroots anti-Muslim group, Act for America, displayed an Islamophobic poster linking Omar to the 9/11 terror attacks. The baseless smears and repeated targeting of Rep. Omar by politicians, the media, and community groups has culminated in her receiving countless death threats.
The Muslim ban is still in effect. In September the administration announced it would set a refugee cap of 18,000 people for fiscal year 2020, which the Pew Center noted "would be the lowest number of refugees resettled by the U.S. in a single year since 1980." Families remain separated and data revealed the "waiver program" to be a sham; over the past two years only 10% of applicants from the banned countries were granted visas.

The White House continues to employ individuals such as Stephen Miller, whose affinity for white nationalism was made abundantly clear following a trove of leaked emails. The emails from 2015-2016 between Miller and staff at Breitbart revealed that he peddled dangerous far-right conspiracy theories including the "Great Replacement theory." This theory motivated a far-right gunman, who in March 2019 attacked two mosques in Christchurch, New Zealand murdering 51 Muslims.

Christchurch, New Zealand
The massacre in Christchurch ushered in a new wave of anxiety and fear for Muslims in the West as societies experienced the mainstreaming and platforming of white supremacist ideas. It exemplified how the normalization of anti-Muslim rhetoric and far-right ideas emboldened an individual to undertake violent actions against a marginalized community. Prior to the attack the gunman released a document outlining the reasoning behind the attack, echoing many of the Islamophobic talking points promoted by politicians and propagated by the media in the West. The attack also brought forth the role of social media in today's public discourse, as the gunman live streamed the horrendous act on Facebook. Subsequently, the Christchurch gunman's views inspired an attack on a synagogue in Poway, California.
As families in New Zealand found out their loved ones had been murdered as they stood for Jummah prayer, Australian Senator Fraser Anning issued a statement blaming Muslim immigration for the deadly attack — adding to Anning's history of repulsive statements such as his 2018 call for a 'final solution' to ban Muslim immigration.
United Kingdom
Similarly, anti-Muslim rhetoric has not hampered British politicians. In 2019 it became clear that Islamophobia was part and parcel of Conservative Party discourse. The new Prime Minister, Boris Johnson, took bigoted jabs at Muslim women, resulting in a significant spike in hate crimes. Dossier after dossier illustrated the Islamophobic epidemic that infected the party, citing hateful comments about Muslims and promotion of far-right conspiracy theories at all levels. Baroness Sayeeda Warsi continued her one-woman battle within to hold the party to account, but the fact remains that the Conservative party finds Islamophobia perfectly acceptable and, sadly, the public does too. In December 2019, the British people voted in a general election that saw the Tories win a massive majority and Boris Johnson return to Downing Street, leaving British Muslims deeply anxious about their future in the country. 
India
Anxiety also permeated the lives of Muslims in India in 2019, as Prime Minister Narendra Modi and his Bharatiya Janata Party (BJP) were re-elected, solidifying Hindutva's (the ideology ascribed to by the BJP that believes India is a Hindu nation) presence and demonstrating its magnitude in the world's largest democracy. Muslims and other minorities in the country rightly feel unsafe following a rise in mob-led and state-supported lynchings. The state has institutionalized discrimination against Muslims with the National Register of Citizens (NRC) in state of Assam. The NRC is a government tool used to dictate, based on religious lines, who is and who is not a citizen, and has resulted in nearly two million people being declared foreigners, the majority of whom are Muslim. 
The BJP under Modi continues to undermine the country's secular ideals as it divides the nation along religious lines. A 2019 Washington Post article noted that the BJP has "crafted an alternative national narrative that recasts the country's Hindu majority as victims, and India's era of Muslim empires as one of loss and shame." This narrative is used to justify the renaming of cities and destruction of historical sites; in November the Supreme Court of India delivered a verdict against the Babri masjid, awarding the land of the historical mosque to a Hindu litigant to build a temple for the warrior god Ram. 
In a shocking move in August of this year, Modi revoked the special status of Muslim-majority Jammu and Kashmir and annexed the region, overturning decades of internationally agreed-upon standards and "abrogating Article 370 of the Indian constitution, adopted in 1954 to guarantee Kashmir's semi-autonomous status." The region remains on lockdown and the internet remains shut off after four months, the longest internet blackout ever imposed in a democracy.

In December Modi's Hindu nationalist government met resistance following parliament's passage of the Citizenship Amendment Bill, which makes Indian citizenship contingent on a person's religion. The amendment allows Hindus, Sikhs, Buddhists, Jains, Parsees and Christians migrating to India from Afghanistan, Bangladesh and Pakistan to become citizens. Notably absent in this group are Muslims. Peaceful protests were met with police brutality at New Delhi's Jamia Millia Islamia University where law enforcement officials beat students, fired tear gas into the library, and forcibly entered male and female hostels. News of state violence targeting students led to greater demonstrations in support of the students and against the discriminatory citizenship act across the country. Modi's government has responded with a violent clampdown, shutting down the internet in many parts of the country, and invoked a "measure to prohibit public gatherings in two states and parts of the nation's capital." 
Myanmar
In 2017, the Myanmar military began a brutal and violent campaign involving mass rape and burning of entire villages targeting the primarily Muslim Rohingya people, and resulting in the exodus of over 700,000 of the minority population. Two years later those who fled remain trapped in refugee camps, the largest being Cox Bazar in Bangladesh, where they live in deplorable conditions. Repatriation efforts were made during this year but all fell short of guaranteeing the Rohingya their fundamental human rights, and thus no one felt safe to move back home.

Myanmar's leader and former Nobel Peace Prize Laureate Aung San Su Kyi oversaw and endorsed the genocide, which had a religious element to it, and in 2019 went on the international stage at the International Court of Justice (ICJ) to defend the actions of the country's military. The proceedings are ongoing and the Rohingya people are hopeful that justice will be delivered for the world's most forgotten persecuted people. 
China
This year comes to and end with increased international awareness regarding China's ongoing campaign targeting Uighur Muslims in the semi-autonomous region of Xinjiang, referred to by its inhabitants as East Turkestan. This year, thanks to the work of academics, experts, and Uighur activists, the public learned about the widespread network of concentration camps in the region detaining over one million Uighur Muslims. Investigations and reports revealed the extent of techno-surveillance in Xinjiang, where facial recognition cameras and undercover government informants line the streets. Chinese authorities continue to defend the camps, calling them "re-education centers" and "vocational training schools" needed to better the lives of Uighurs. In other instances, Chinese authorities have borrowed the 'war on terror' discourse, calling the camps "deradicalization" centers needed to rid the population of "extremist" thought, describing Islam as an "ideological illness." In reality, the camps and the suffocating levels of surveillance are employed by the state in an attempt to eradicate their cultural identity and socially re-engineer the Turkic Muslim population to be like China's majority Han Chinese. Some former detainees of the camps shared terrifying accounts of torture, rape, and political indoctrination. An October piece in Israel's Haaretz offered graphic details of the horrors inside the camps by a former teacher who escaped the region.

Growing awareness has resulted in greater pressure for the international community to speak out. While many Western countries have offered statements in support of the Uighur Muslims, Muslim-majority countries have remained all but silent with many even endorsing China's Islamophobic campaign, providing evidence that, yes, Muslims too can be Islamophobic. However, Muslims around the world have been speaking out in support of their co-religionists; in July over 130 American Muslim imams, scholars, and community leaders signed a statement of support, highlighting China's oppression of the Uighurs. Uighurs abroad, who themselves are not free from China's threats, started an online campaign, #MeTooUyghur, to find their missing relatives back home.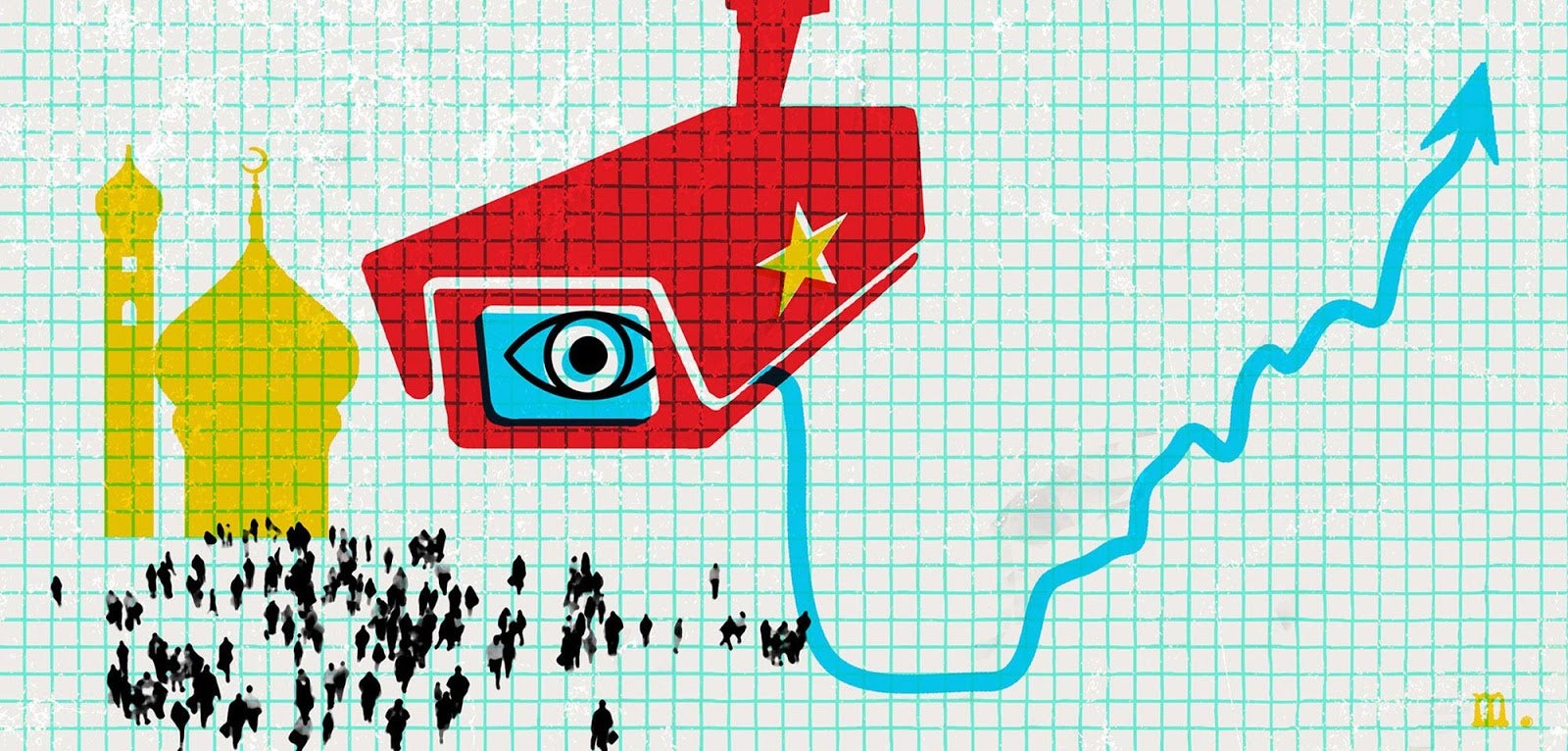 The unique aspect of China's actions in Xinjiang is that the oppression is largely carried out via technology. Dr. Darren Byler identified this as a "hi-tech war" against the Muslim population, in which surveillance systems using DNA are used to monitor the movements of millions of people. One such system is the Integrated Joint Operations Platform (IJOP), which gathers vast amounts of data and then allegedly predicts who may hold "extremist" views, thus automating racial profiling. In late 2019, leaked documents from the Chinese Communist Party confirmed Beijing's campaign in the region, revealing "the operations manual for running the mass detention camps in Xinjiang and exposed the mechanics of the region's system of mass surveillance."
Globally, Islamophobia underpins many systems of oppression used by states to clamp down on dissent and to divert attention from growing socioeconomic inequalities. It is more than just hate crimes on our streets: it is institutionalized in laws and policies around the world. Politicians in their quest for electoral victories and eager to consolidate power are employing the age-old tactic of targeting marginalized communities. Dehumanizing language is employed by those in power and amplified by the media depicting Muslims as "invaders," "infiltrators," "foreigners," and even "termites." This sows the seeds of hatred and lays the foundation for potential genocide. Islamophobia is dangerous, it is deadly, and sadly in 2019 it was normalized by those in power.