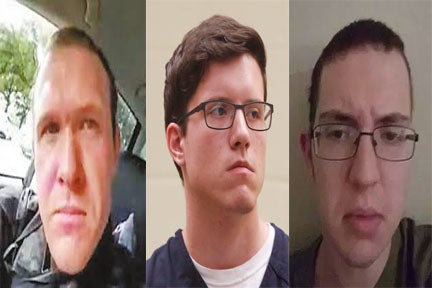 Christchurch Mosque Terrorist Inspired U.S. Mass Murderers
In March 2019 a young Australian white supremacist walked into two different mosques in Christchurch, New Zealand. While streaming his massacre on Facebook Live, this anti-Muslim terrorist proceeded to murder 51 innocent worshipers during Friday prayers in one of the worst acts of Islamophobic terrorism in modern history (and New Zealand's worst terrorist attack ever).
Although many white supremacist terrorists might seem to be "lone wolves," there is now incontrovertible evidence that the New Zealand anti-Muslim terrorist was a major inspiration for at least two other high-profile American white supremacist mass murderers in 2019 alone, one targeting Jews and one target Hispanics.
In April 2019, the Jewish community of Poway, California were victims of a brutal act of anti-Semitic terrorism when a 19-year-old white supremacist opened fire inside a synagogue with an AR-style rifle, killing a 60-year-old woman named Lori Gilbert-Kaye as she tried to protect her rabbi. The Poway Chabad congregation's leader, Rabbi Yisroel Goldstein, suffered defensive wounds which severed some of his fingers, but thankfully he survived the attack.
Only a few weeks before the California synagogue attack, that same 19-year-old white supremacist also admitted responsibility for an early morning arson at a nearby mosque in Escondido, California, which included graffiti that directly referenced the Christchurch killer.
In his racist manifesto, the alleged killer took credit for both the synagogue and mosque attacks in southern California (by providing insider knowledge of the anti-Muslim arson that only the perpetrator would know). According to award-winning British columnist Jeff Sparrow, the ongoing "war on terror" global narrative has now effectively normalized anti-Muslim rhetoric and which pretty much exactly replicates "all the traditional tropes of anti-Semitism" that white supremacists had used before.
Proving a clear nexus between the Christchurch mosque shooting and the Poway Chabad synagogue shooting, police authorities found that the 19-year-old white supremacist who was arrested for the Poway Chabad massacre had posted a manifesto online to the internet forum 8chan describing the Christchurch mosque shooter as his inspiration.  The alleged shooter stated clearly, "He showed me that it could be done." 
Just a few months after the July 2019 Poway Chabad synagogue shooting, the New Zealand terrorist inspired another mass murderer, who would target Hispanics this time.
In August 2019, another white mass murderer (targeting Latinos this time) brutally slaughtered over 21 people inside a crowded Walmart store near the U.S.-Mexico border in El Paso, Texas.
"In general, I support the Christchurch shooter and his manifesto. This attack is a response to the Hispanic invasion of Texas," began the El Paso shooter's unsigned manifesto.
According to reporting in The New York Times, the anti-Muslim Christchurch massacre has now become a rallying cry for white supremacist terrorists in other parts of the world as well. The authors noted that the El Paso shooter's manifesto drew "direct inspiration from the mass murder of Muslims at two mosques in New Zealand" even though he was targeting Latinos in his act of mass murder inside the Walmart store in southern Texas.
Before live-streaming his mosque massacre of 51 people, the New Zealand suspect had posted a manifesto online promoting a debunked conspiracy theory known as the "great replacement." This debunked racist ideology was first promoted by a right-wing French writer named Renaud Camus who argued in a 2011 book that liberal elites in Europe have been working behind the scenes to replace white Europeans with Muslim immigrants from the Middle East and Africa.
The Institute for Strategic Dialogue (ISD), a British think tank specializing in extremism, found that organized far-right networks across the globe are promoting this "great replacement" conspiracy theory to the extent that references to it online have doubled in the last five years, with more than 1,500,000 mentions on Twitter alone (a number which the ISD report says is rising significantly every day). The report also noted that the conspiracy theory had received increased attention worldwide after featuring prominently in the 2019 manifesto of the New Zealand mosque gunman.
This once-obscure xenophobic ideology has now also moved into mainstream Western politics and has been referenced publicly by prominent right-wing Western political figures including American president Donald Trump, Italian interior minister Matteo Salvini and Björn Höcke of the Alternative für Deutschland (AfD) in Germany,according to a July 2019 report on the "great replacement" theory by the Institute for Strategic Dialogue.
Like the anti-Semitic and anti-Latino mass murderers, the anti-Muslim Christchurch killer made it quite clear in his racist manifesto that his decision to slaughter Muslims was entirely tactical. Like the Poway synagogue and El Paso Walmart shooter, he regarded all non-whites as "invaders" and chose Muslims as his victims simply because Islamophobia made them unpopular.
As our global community witnesses a dramatic surge in white supremacist mass murders around the world, we should never forget that there is a common racist thread of white supremacy which can be found in all of these cases, regardless of whether the shooter is targeting Jewish, Hispanic, black and/or Muslim people.