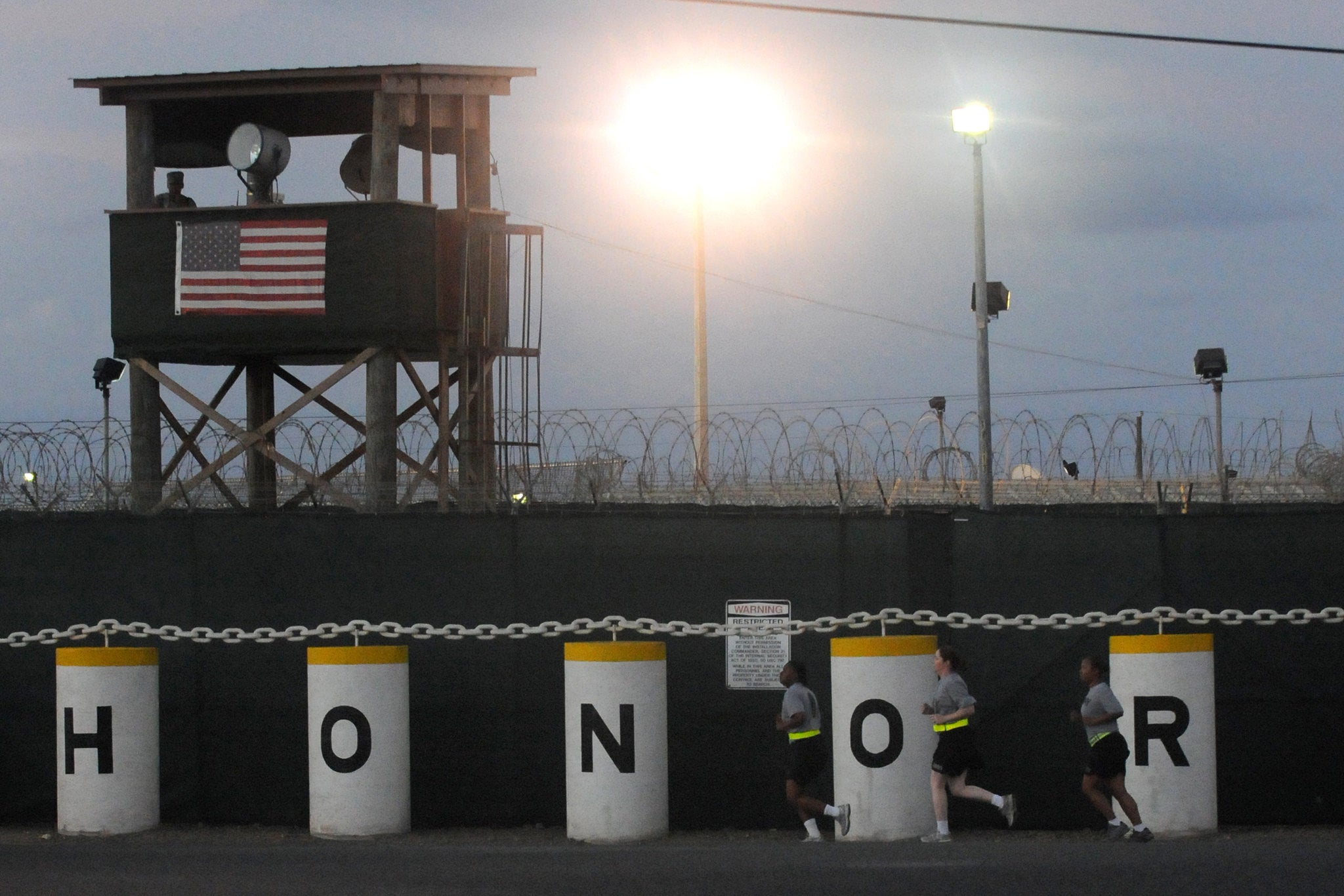 2022 Islamophobia in Review: United States
2022 in the United States marked the twentieth anniversary of the military prison at Guantánamo Bay, which rights organizations and academics have described as an "enduring symbol of Islamophobia."  The detention center was opened in 2002 to house suspected terrorists captured in the US-led global "War on Terror." Since its inception, the site has illegally imprisoned 780 Muslims boys and men, with many subjected to torture. The twentieth anniversary of the detention center signaled renewed calls from rights organizations as well as former detainees to shut down the prison.
20th anniversary of Guantánamo
Guantánamo has been the site of systemic abuses, where prisoners were not afforded their basic rights including access to legal representation for years. The vast majority of individuals imprisoned were held without charge or trial. The Bush administration created the military commissions to prosecute prisoners at the base, but the entire legal apparatus has been confusing, complex, and marred by controversy. RIghts experts have described the prison as a legal blackhole, the "legal equivalent of outer space," and a "legal anomaly." 

Journalists, commentators, rights organizations, and activists sought to bring attention to the decades-old prison this year by outlining the myriad of ways in which the detention center has harmed and negatively impacted society, stating that Guantánamo undermines human rights and the rule of law worldwide. The remaining prisoners at Guantánamo are aging and many struggle with chronic health conditions and psychological problems, largely due to the torture they've experienced. 
Forging a life after Guantánamo hasn't been easy. Former prisoners have described how stressful life after imprisonment has been, pointing out the limitations that are placed upon them as many are sent to a country where they did not hold citizenship. Lacking a support system and legal status (impacting their ability to travel and find work), and encountering ongoing harassment from authorities has left many former detainees isolated and feeling like a prisoner. In a January 2022 Washington Post piece, former detainees and prisoners told reporter Abigail Hauslohner, that "stigma, poverty and continuing persecution on top of the years of abuse endured at Guantánamo, present formidable obstacles to resettlement." Many continue to experience flashbacks of the torture they experienced, transporting them "back to the sensation of starvation, of being kept in the freezing cold, of having excrement smeared on my face." Former prisoners also face surveillance, harassment and intimidation from local law enforcement, and have difficulty forming friendships as people often distance themselves upon hearing of their connection to Guantánamo.

Legal and human rights experts reflecting on the 20th anniversary, have noted that no one has been held accountable for the torture and lawlessness that prevaded Guantánamo. Baher Azmy of the Center for Constitutional Rights stated that "Guantánamo crystallizes the transformation of the United States into a maximal security state." Clive Stafford Smith, founder of Reprieve, a legal rights organization that has represented many of the individuals imprisoned at Guantánamo, also wrote about the prison, noting that many of those who were held there were just everyday people who were captured by bounty hunters in Pakistan and sold to the US government. In a January Al Jazeera piece, Smith described Guantánamo as "a huge blot on the reputation of the US."

Torture has been a common tactic or practice in the War on Terror, which enabled torture (that would have been illegal in the US) at blacksites around the world. Many prisoners at Guantánamo were taken to these secret locations to be interrogated (which involved torture) before being transferred to the military prison in Cuba. In a January 2022 account published by the Guadian, Abu Zubaydah, who remains imprisoned, detailed his torture, using his words and illustrations to "depict the relentless, round-the-clock, prolonged and illegal abuse suffered" at the hands of the US authorities. Zubaydah, who is referred to as one of Guantánamo's forever prisoners (having never been charged but also not recommended for release), also won a case against Lithuania in January 2022. The European country agreed to pay him more than $110,000 in compensation for "having allowed the CIA to hold him at a secret site outside Vilnius where he was subjected to forms of torture."

There are a few prisoners who have been charged; many of their cases remain in the pretrial phase. During one pretrial hearing this year for Abd al-Rahim al-Nashiri, one of the psychologists who was paid $81 million by the CIA to create the torture program, told the judge that "al-Nashiri broke quickly under torture and became so obedient that he would crawl into a cramped confinement box before guards ordered him to do so." Intelligence officials, military officers, neuroscientists, and rights organizations have all noted that torture does not provide credible or valuable intelligence.

While President Joe Biden failed to deliver on his pledge to close down the prison, his administration did move forward with clearing a number of detainees for release, and actually transferring some out of the prison, including the oldest prisoner, 75 year old Saifullah Paracha who was released in October after being imprisoned for over 17 years without charge. As of October 2022, 35 individuals remain at Guantánamo. It was also announced this year that Guantánamo prosecutors were exploring plea deals in the cases of five men who have been charged with involvement in the deadly 9/11 attacks. NPR reported that "discussions taking place between prosecutors and defense attorneys are a tacit admission that Guantánamo's problem-plagued military court is unlikely to be able to take the men to trial, let alone win convictions."

Another issue that arose this year regarding Guantánamo was the call to release the artwork of  detainees. Eight former and current detainees wrote a letter to President Biden, calling on him to end a restriction that bars their artwork from leaving the prison. In 2017, shortly after prisoner's artwork was displayed in an exhibition at John Jay College of Criminal Justice, the Pentagon declared all art made at Guantánamo to be the property of the government and could no longer leave the prison, and stated the artwork "could be destroyed at the military's discretion." In their open letter, the individuals stated, "This art belongs to the artists. Its importance to them cannot be overstated." 
Guantánamo and the individuals who were imprisoned there were constantly in focus this year. Many brought attention to the unjust imprisonment of hundreds of Muslims in a prison whose existence in part was rooted in Islamophobia. Others, like filmmaker Meg Smaker, ignited a firestorm after the release of her documentary Jihad Rehab (later re-named The UnRedacted), which saw her interview and follow four former Guantánamo detainees who were detained at a rehab center in Saudi Arabia. Smaker's documentary was met with great criticism from filmmakers, rights organizations, and former Guantánamo prisoners themselves. In a February IndieWire piece, Eric Kohn stated that among the many issues, there were concerns about the title "which reinforces the most negative connotations of the term 'jihad'; the positioning of the subjects as ominous Muslim stereotypes; and an ethically dubious approach to labeling men as 'terrorists' who haven't been accused of actual crimes." Former Guantánamo prisoners published an open letter expressing their "extreme discomfort with the content of the film and its method of production," stating that the "documentary reproduces false narratives that were produced almost entirely from unreliable information obtained through our torture."

Following the criticism, Abigail Disney (an executive producer of the documentary) issued a public letter apologizing for her role in the film, stating that she "should have pushed back on the idea that the protagonists consented to appear in the film," and how she "failed to understand just how exhausted by and disgusted with the perpetual representation of Muslim men and women as terrorists or former terrorists or potential terrorists the Muslim people are."

While Disney publicly apologized for failing to undertake fact-checking centered on the lives of the prisoners and to understand the impact of Islamophobia, Smaker doubled-down on her documentary and categorized the criticism as an assault on free speech. She framed it within the 'culture wars' context, and certain sectors of the media jumped on the story claiming that a 'woke mob' canceled the film. However, many documentary filmmakers had expressed concerns to Smaker before the film had even premiered at Sundance, stating that it "promotes Islamophobia and re-victimizes its protagonists", "inadvertently perpetuates the stereotypes that it seeks to overcome," "that the title and much of the content of the film would be incredibly offensive to Muslim and Arab communities," and that it frames the protagonists though a "lens of guilt." In response to claims that Smaker' was being "censored" and "canceled," academics and rights experts noted that the issue at hand was about ethics and human rights.
American Muslims and political representation
There were a number of wins for American Muslims in local  and state elections in 2022, and. The active political participation of many American Muslims, which began as a response to the hostile and Islamophobic administration of Donald Trump, continued to gain steam with a new generation of Muslims elected to public office. There were historic gains and many firsts, such as Ruwa Romman, who made "history as the first known Muslim woman elected to the Georgia House of Representatives, and the first Palestinian American elected to any office in the state," and Nabeela Syed who at 23 became the youngest member of the Illinois General Assembly and among the first Muslims elected to the state legislature. Data collected by the Council of American Islamic Relations (CAIR) and the Jetpac Resource Center, found that "more than 80 Muslim candidates won local, state, federal and judicial seats in over 20 states."

There were numerous episodes of Islamophobia in the GOP in 2022. While Donald Trump is no longer president, he has left a considerable impact on the Republican party as members continue to use Trump-like rhetoric in targeting American Muslims. Just as in years past, Minnesota Representative Ilhan Omar was repeatedly harassed by GOP members, including Rep. Lauren Boebert who made a vile joke insinuating Omar was a terrorist. Boebert apologized but followed it up with even more anti-Muslim rhetoric aimed at Omar. In July, Boebert wrote that Omar "not only doesn't speak out against terrorism; she condones it," and accused her of being a "terrorist sympathizer." In a January MSNBC piece, Ayman Mohyeldin wrote that the prevalence of Islamophobia in the halls of Congress illustrated "how tragically tolerant America remains of Islamophobia and the double standards that exist when politicians engage in open bigotry toward Muslims and face little or no consequences."
Ms. Marvel and media representation
There were some positives this year when it came to tackling anti-Muslim stereotypes in the media, namely with the release of Disney+'s Ms. Marvel, starring Canadian-Pakistani actress Iman Vellani. The series is about a fictional character, Kamala Khan, a Pakistani-American high schooler who loves comics and one day becomes a superhero herself. The show seamlessly integrates Khan's South Asian culture and her Muslim faith with normal teenage drama and her interactions with supervillans. In a June BBC piece, Mohammad Zaheer wrote that "While the comics never shy away from her religion or culture, these aspects don't define Kamala's whole identity. She is your everyday, regular teenager – who happens to be Muslim, who happens to be Pakistani American, and who happens to be a superhero." Ms. Marvel was met with an overwhelmingly positive response, as many appreciated the realistic and honest representation of South Asian Muslims, a refreshing change from the negative stereotypes that have often been presented in western media.

Other shows in 2022 that starred Muslim actors and incorporated Muslim faith into storytelling included Hulu's Ramy and Netflix's Mo, both of which involved Azhar Usman, a lawyer-turned-comedian who seeks to "build a more nuanced understanding of Islam and American Muslims for American audiences." The importance of such shows was made clear following a September report by the University of Southern California's Annenberg Inclusion Initiative, which found that "despite making up 25% of the global population, Muslims only account for 1% of characters on popular television shows." Furthermore, the study found that when Muslims were represented on screen, their portrayal "tended to follow stereotypes – and they lacked the diversity that characterizes the real Muslim population."
Anti-Muslim harassment and violent attacks
The normalization of anti-Muslim discrimination was present in society as reports showed that American Muslim students faced high levels of bullying in schools, and mosques were attacked in episodes of vandalism and break-ins. Such a hostile environment creates a fertile ground for violent attacks, and this occurred in May 2022 in Buffalo, NY, when a gunman killed 10 Black Americans in a grocery store. The investigation following the deadly shooting revealed the gunman, Payton Gendron, was motivated by anti-Black racism, antisemitism, and Islamophobia. Gendron appeared to be inspired by the Christchurch gunman, Brenton Tarrant, who killed 51 Muslims in New Zealand in 2019, as Gendron copied Tarrant by also livestreaming the shooting. He also plagiarized paragraphs from Tarrant's declaration into his own hate-filled document. His writings revealed that he was inspired by the far-right "great replacement" conspiracy theory.
Surveillance and Muslim civil society 
2022 involved the unfolding of a case involving spies and CAIR, the country's largest Muslim civil rights organization. In January, CAIR released evidence outlining a decade-long spying operation into one of its local chapters by an anti-Muslim organization. CAIR discovered that two individuals from the American Muslim community, Romin Iqbal, a longtime Ohio CAIR leader, and Tariq Nelson, had passed on inside information for years to the Investigative Project on Terrorism (IPT), founded by Steven Emerson, who has a history of promoting falsified information and conspiracy theories about Islam and Muslims. CAIR described the discovery as one of the "most extensive known spying on a U.S. Muslim organization in recent memory." In response to these developments, CAIR, along with over 80 American Muslims organizations, as well as the New York attorney General called on the federal government to investigate IPT.
Hindu nationalism on American streets
The impacts of right-wing Hindu nationalism were also visible amongst the Indian diaspora in the US in 2022. In recent years, scholars, journalists, and human rights experts have warned about the rise and mainstreaming of Hindu nationalism and its global consequences. An incident involving a bulldozer in New Jersey in August demonstrated how right-wing views in India had been absorbed by some members of the Indian American community. In New Jersey, during a parade marking Indian independence day, a bulldozer was used as a prop along with the image of Yogi Adityanath, the Chief Minister of Uttar Pradesh and Hindu monk, known for his anti-Muslim animus. Indian American Muslim communities were shocked by this action, since the Hindu nationalist government of Prime Minister Narendra Modi has used the bulldozer to intimidate, harass, and marginalize Indian Muslims. Following a town hall meeting that took place over the presence of the bulldozer in a parade, the mayor of Edison, NJ (where the parade took place) Samip Joshi denounced the bulldozer as an unwelcome "symbol of division and discrimination";  it was condemned by a coalition of New Jersey state legislators. This was one of several incidents in the US connected to a militant Hindu nationalism that was condemned by American civil society groups in 2022.
Conclusion
Islamophobia in America in 2022 included the need to address the ongoing consequences of the War on Terror, such as the 20th anniversary of the Guantánamo prison. It was also a year in which episodes of harassment, vandalism, surveillance, and hate speech against Muslims were present, and anti-Muslim rhetoric from politicians remained a commonplace. However, there were also positive developments as well. American Muslims participated in local and state elections, making historic gains at the polls. Additionally, some new tv shows highlighted authentic and real experiences of Muslims, a welcome shift from the all too common negative tropes that have long persisted in the media.