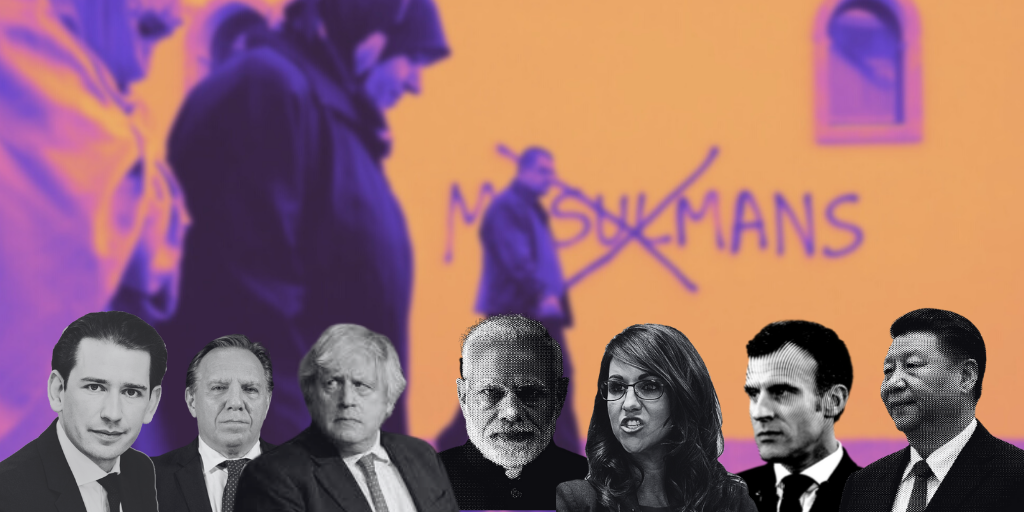 2021 Islamophobia in Review: Europe
Overall, 2021 demonstrated that Islamophobia remains a constant and growing threat around the globe. Anti-Muslim racism in 2021 remained ever present as hate crimes and individual attacks targeting Muslims persisted. Across the globe, the key players of anti-Muslim racism were again states themselves, as this year witnessed increasing discriminatory legislation and policies. China continued to deny the growing body of evidence pointing to genocide being committed against Uyghur Muslims and an international tribunal was held in the U.K. with testimony from survivors of Xinjiang's concentration camps. In Canada, a man killed a Muslim family of four in a horrific calculated hit-and-run, leading to Canadian Muslims demanding the government take concrete measures to tackle Islamophobic violence. In France, President Emmanuel Macron's government took a page from China's book by implementing legislation aimed at constructing a state-approved Islam, resulting in widespread discrimination targeting Muslim civil society and curtailing the rights of French Muslims, especially women. Similarly, the Austrian government took measures to intimidate and silence Austrian Muslim activists and organizations, even going so far as to publish a map detailing the locations of hundreds of mosques and associations. In the United Kingdom, the ruling Conservative party persisted in evading calls to address institutional Islamophobia within its ranks. State hostility and prejudice towards Muslims was present across the European continent, with rulings aimed at restricting Muslim identity such as halal meat and hijab bans. In India, the country's growing Hindu nationalist forces retained last year's theme of conspiracy theories, claiming Indian Muslims were engaging in "love jihad," "economic jihad," and even "narcotics jihad." Additionally, there were large episodes of anti-Muslim violence in various parts of the country such as Tripura, Gurgaon, and Assam, all of which were supported by the rising Hindu nationalist voices. The year was also spent uncovering the role of social media platforms in larger campaigns of violence targeting Muslims as seen in India and Myanmar. In the United States, the country marked twenty years since the deadly September 11th attacks and reckoned with the impacts and consequences of two decades of the War on Terror at home and abroad.
2021 Islamophobia in Review: Europe

In 2021, Islamophobia in Europe was further institutionalized within policies and programs that effectively criminalized Muslim civil society on the continent. In France, President Emmanuel Macron introduced the anti-Separatism law restricting the rights of French Muslim citizens and essentially forcing Muslims religious leader to take an oath of loyalty. Meanwhile in Switzerland, the government approved a ban on the burqa, adding to the growing number of countries that have restricted Muslim women's right to religious freedom. Further, in the United Kingdom, the leading party again failed to take any meaningful action to root out Islamophobia amongst its ranks and in society, providing greater evidence that anti-Muslim racism is acceptable and approved by leading institutions in the country. The trend on the continent has been to construct Europe's Muslims as both a security and cultural threat, using arguments framed under counterterrorism and secularism to justify discriminatory and harmful rhetoric and practices that have severely curtailed the basic rights of Muslims.

In a review of 2021, Austrian academic and Bridge Senior Researcher Farid Hafez described the Europe's right-ward shift as the continent entering an age of "McCarthyism against Islam," with government policies framing Muslim citizenry as potential threats, suspicious, and ultimately untrustworthy. With the current status quo, it appears that "guilty until proven innocent increasingly becomes authorities' approach to Muslims," and Hafez demonstrated this by highlighting France, Austria, and Denmark's collective approach to fighting "political Islam." Arguments utilizing the vague and undefined concept of "political Islam" have been employed heavily in recent years by leading European politicians and academics, and used to defend counterterrorism programs and measures that infringe on basic human rights but are deemed necessary to fight this ominous threat. However, it's rarely been used to fight a militant or violent threat, rather the actions taken by the authorities has been to target Muslim civil society and rights organizations who call attention to the unjust actions of the government. The government-led campaign against "political Islam" has been welded by those in power to silence its critics and is a clear example of the continent's right-ward shift.

In 2020, Hafez found himself on the receiving end of the government's intimidation campaign with more information coming out about this in 2021. In November 2020, the Austrian police carried out Operation Luxor, which involved 930 people including police officers carrying out raids targeting 70 homes of key activists and academics from the Austrian Muslim community. In 2021, it was revealed that no one who was targeted by the operation, described as the largest police operation in Austria since the Second World War, had been charged with any crime with the Higher Court of Graz ruling that the raids were unlawful.

In addition to greater information about Operation Luxor, 2021 witnessed even more alarming measures by the Austrian government including calls for a registry of Muslim imams and the creation of an "Islam map." All of these actions were introduced under the guise of anti-terrorism, but in actuality "severely curtailed civil liberties, putting at risk the freedoms of religion, expression and association. The goal, first and foremost, is apparently to target Muslim civil society." The introduction of the "National Map of Islam" by the government established Documentation Center Political Islam spread great fear amongst the community given the rising hate crimes and violence targeting Muslims in Europe. The public interactive digital map contained the names and locations of more than 600 mosques, associations and officials in Austria. The map was introduced by Susanne Raab, Austria's integration minister, in May 2021 with her insisting the measure was intended "to fight political ideologies, not religion." Following the publication of the map, there was a documented increase in anti-Muslim attacks, with "incendiary anti-Muslim signs" hung outsides mosques in various cities. The signs depicted an "angry Muslim" and warned of the dangers of political Islam underneath, with the writing "Beware! Political Islam nearby." On the last day of May 2021, the Council of Europe issued a statement in response to the "Islam Map," noting that "Muslims perceive the form and timing of the publication as extremely discriminatory. They feel stigmatized and threatened in their security by the publication of addresses and other details" and concluding that map should be "withdrawn in its current form." While it was reported that the government had taken down the map in June, it was again made public just two weeks later. 
In neighboring France, President Emmanuel Macron solidified his presidency as one marked by state-led Islamophobia, where under his leadership the government instituted measures that stigmatized and collectively punished France's nearly 6 million Muslims. Much like Austria, Macron's government hinged on the "political Islam" boogeyman to justify measures that not only severely curtailed the rights of Muslims but many argued also was an attack on French secularism. In late 2020, under the guise of fighting "political Islam," Macron gave Muslim religious leaders an ultimatum, essentially forcing Imams to sign a charter or otherwise be considered a threat and enemy to the state. In March 2021, a coalition of civil society organizations urged the European Commission to investigate France at the European Court of Justice over the charter, saying that it "violates Muslims' right to free speech and religious freedoms."

In 2020, Macron also introduced the anti-separtism bill, which was approved by Members of Parliament in February 2021 and adopted by the National Assembly on July 23, 2021.
French legal scholar Rim-Sarah Alouane described the bill as an "attack" on civil liberties, stating, "I see a blatant attack on freedom of association. This bill has no safeguards of potential abuse from public authorities," and further noted that "French Muslims are paying the price of the failure of the state to prevent terrorist attacks from happening." Further the bill also included measures aimed at increasing restrictions on Muslim women's ability to wear the hijab, with the argument of religious neutrality used to extend the hijab ban to private companies under contract with the state.

In January 2021, a coalition of thirty-six organizations from thirteen countries submitted a twenty-eight-page document to the United Nations Human Rights Commission (UNHRC), calling on the international body to "open formal infringement procedures against France's government for entrenching Islamophobia and structural discrimination against Muslims." The organizations alleged that under Macron's governance, France's recent "actions and policies in relation to Muslim communities violated international and European laws."  

In 2021, Macron's government continued in its smear campaign against Islam and Muslims, as his Minister of Higher Education and Research declared her intention to order the National Centre for Scientific Research (CNRS) to mount an investigation into "Islamo-gauchism"" or "Islamo-leftism" in the country's universities. Vidal had indicated in an interview with CNews that "Islamo-leftism is plaguing the entire society." Many critics noted that these actions were being taken by the government to play on the ongoing culture wars, and to silence any group or individual who called out the government's Islamophobia, by linking anyone on the left with "'Islamism,' the eternal bogeyman in French society."

The measures aimed at dismantling French Muslim civil society remained in force as a French court confirmed the dissolution of the Collective Against Islamophobia in France (CCIF), a leading anti-discrimination group that tracked Islamophobia in the country. Adding to this, in 2021 the government shut down a Muslim publishing house. In October 2021, Interior Minister Gerard Darmanin announced the government would close 7 more mosques and associations in the country by the end of the year, and stated that since Macron had taken office, "some 13 associations have been closed along with 92 of the 2,500 mosques in the country." Under the pretense of tackling "radicalization" and "political Islam," the French government has taken measures to dismantle Muslim civil society and strike fear in the French Muslim community.

Experts, commentators, and writers all noted how the current political climate in France involved a surge in the far-right and an overall massive shift right-ward in the country. Given the upcoming 2022 presidential elections, it appears that candidates in the running to lead the country are attempting to outdo each other when it comes to blatant anti-Muslim bigotry. Amongst the candidates, which include President Macron and Marine Le Pen, is a newcomer who has truly shaken up the political landscape. In 2021 Eric Zemmour, a far-right French writer and political pundit who supports the "Great Replacement" conspiracy theory, peddles historical revisionism, and has a history of making racist and anti-Muslim comments, announced his campaign for presidency. While many sought to exceptionalize Zemmour for his racist and anti-Muslim views, others argued that his rhetoric is very much in line with what the french establishment has been supporting throughout the years.

In the United Kingdom, the Conservative party dragged its feet once again when it came to tackling the well-documented prevalence of Islamophobia amongst its ranks. Nearly two years after PM Boris Johnson committed himself to an investigation into Islamophobia, which was later broadened to include "other forms of prejudice," the party finally released a report on the investigation. Professor Swaran Singh analyzed 1,418 complaints relating to 727 separate incidents as recorded in the Tories' complaints database between 2015 and 2020. He noted that, "judging by the extent of complaints and findings of misconduct by the party itself that relate to anti-Muslim words and conduct, anti-Muslim sentiment remains a problem within the party." The report stopped short of concluding there was "institutional racism" in the party, an allegation made by former Tory chair Baroness Warsi. In response, Lady Warsi disagreed with this conclusion, noting that there were issues "from the top … to the bottom" of the party.
Additionally, it was reported that critics believed the report was "doomed to failure because of a deep mistrust in the process that was seen by many senior Muslim Tories as flawed from the start," with one Tory source reporting that "not a single Conservative Muslim MP has been quoted in the report."
While it finally produced the report, the party has still yet to define Islamophobia. In 2019, then-Communities Secretary stated the party government would come up with its own "working definition of Islamophobia," after "claiming that the definition proposed by the All-Party Parliamentary Group (APPG) on British Muslims was not in line with the Equality Act 2010 and could 'undermine free speech.'" More than two years later, the Conservatives remain reluctant to deal with the issue, leading journalist Basit Mahmood to conclude that "by failing to come up with its own definition of Islamophobia, and by refusing to let its victims define their own suffering, it [the Conservative party] can continue to portray hatred and racism against Muslims as a matter of debate." In 2021 it was also revealed that PM Johnson had failed to respond for an entire year to MP Afzal Khan's call for action on Islamophobia. Further in November 2021, during a debate on Islamophobia Awareness Month, Conservative MPs were accused of "eye-rolling at a debate on Islamophobia as MPs shared their experiences of anti-Muslim bigotry." The ongoing failure of the Tories to acknowledge and tackle Islamophobia has  sent a signal to wider society that anti-Muslim racism is tolerated by those in power. 

In British society, hostility against Muslims remained present in various sectors, with numerous incidents in the sports and media industry. In November 2021, the home office released statistics finding that "Muslims have been the target of almost half of recorded religious hate crimes." In an October 2021 Guardian piece, Nick Cohen remarked on London Mayor's Sadiq Khan's 24/7 security given the level of threat he faces in and how this reality "challenges the self-congratulatory claim that 'Britain is the least racist country in the world.'" Cohen further elaborated noting the rightward shift in the political and media landscape had created an environment in which anti-Muslim hate had become the norm. Further, he touched on the role of the media in shaping the current situation, stating that "Conservative newspapers know their readership and understand that putting Khan's name in a headline guarantees angry clicks. No attack on Khan is too trivial to dismiss." When it comes to the media in the UK, a 2021 report from the Centre for Media Monitoring found that there was widespread anti-Muslim bias in press coverage. In an analysis of  coverage between 2018 and 2020, the CfMM found that "almost 60 percent of the articles and 47 percent of the television clips associated Muslims and/or Islam with negative aspects of behavior." 

Lastly, 2021 experienced a renewed conversation about the prevalence of racism and Islamophobia in sport. Early on in the year, a study was conducted in which  "more than 40 men and women from Muslim backgrounds shared their experiences of facing anti-Muslim hatred in Sunday league football from fans, teammates and opponents." Then in November, former Yorkshire Azeem Rafiq delivered a heartbreaking and damning testimony as he gave evidence to the parliamentary inquiry into racism in cricket. While many in British society expressed shock at Rafiq's experiences, British Muslims remarked how they too had endured similar instances of racism and Islamophobia growing up, with Shaista Aziz noting that "institutional racism isn't exceptional. What marks him [Rafiq] out is the fact he is finally being listened to and believed: by MPs, the cricketing authorities and the media. When I was growing up, the P-word was used frequently against me, my family members and my friends; it was often followed up by violence."

This year also witnessed more policies in Europe limiting the rights of Muslim women, with voters in Switzerland approving a referendum banning Muslims from wearing a face veil in public. This occurred in an environment in which covid face masks, which ostensibly do the same thing in regards to covering, are mandatory and where only around 30 women are believed to wear a face veil. The campaign supporting this measure utilized anti-Muslim tropes, tying the veil to extremism and violence. Switzerland isn't unique in its measures restricting Muslim women's dress; France, Denmark, Austria, the Netherlands, and Bulgaria all have similar restrictions in place. Arguments in support of these restrictions have either framed the veil and hijab as a security or cultural threat, or justified these measures under the guise of feminism, claiming they're needed to "free Muslim women." French legal scholar Rim-Sarah Alouane warned that "Switzerland's crackdown on Islamic symbols is normalizing anti-Muslim bigotry across the political spectrum."

In 2021, Europe continued on a right-ward path as anti-Muslim racism became the norm in media, politics, and society. While some political leaders dragged their feet in  addressing the issue of Islamophobia, many others openly incorporated dangerous and discriminatory anti-Muslim rhetoric into their agenda. Government policies aimed at dismantling Muslim civil society, are also in effect leading to the decay of European democracy as such measures severely curtail free speech and free expression. In some countries, leaders have also targeted non-Muslim organizations and individuals, who are calling attention to the government's discriminatory campaigns, and are smearing them as "Islamists" to silence critics. In 2021, Europe's Muslims experienced greater marginalization, especially Muslim women who have been on the receiving end of countless bills and laws aimed at restricting their right to dress, and in effect excluded them from mainstream society. The continent's leap right-ward, the encroaching reach of the state, and the blatant widespread anti-Muslim racist rhetoric are  far more than alarming: they are at fever-pitch levels. 
* To download full article series click here