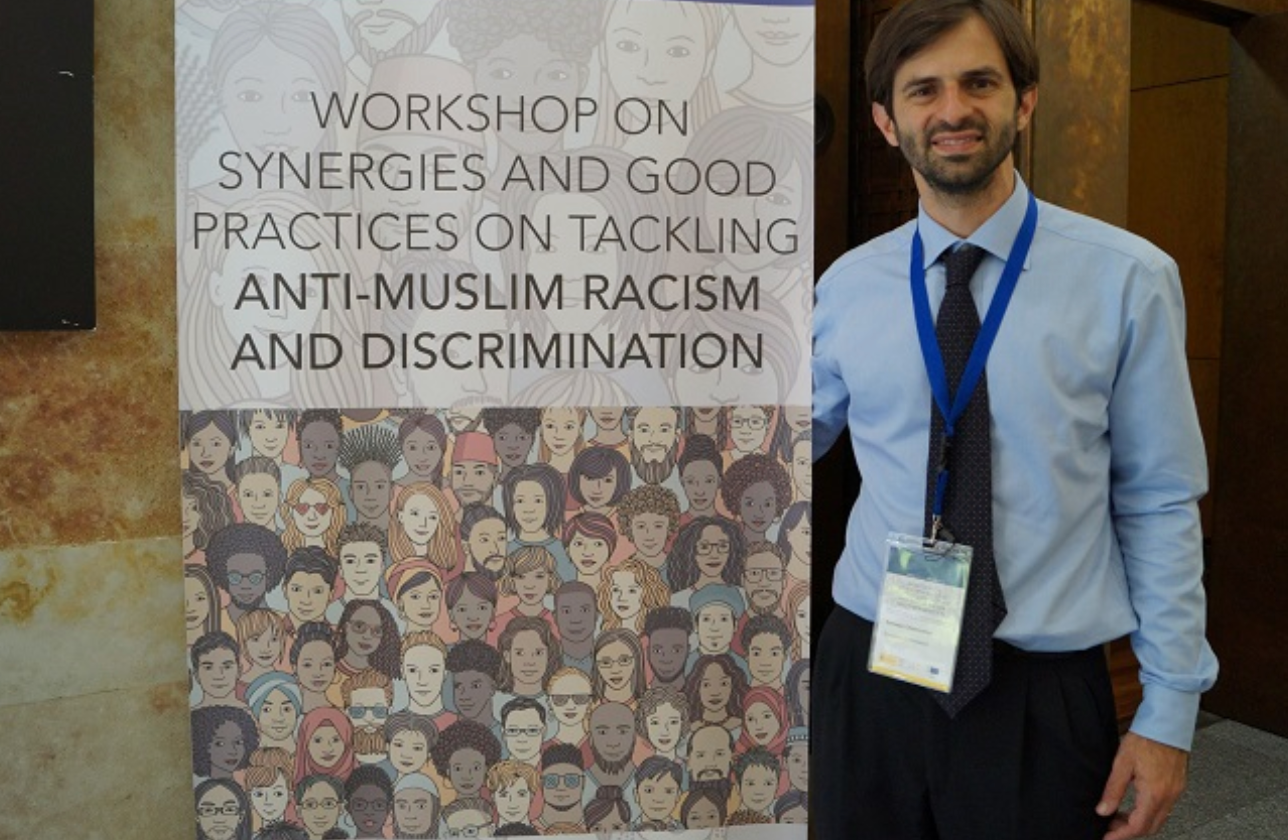 The Second European Commission's Meeting on Combatting Anti-Muslim Racism
From 24 – 25 June 2019, a workshop on synergies and good practices on tackling anti-Muslim racism and discrimination that was co-hosted by the European Commission and the Ministry of Labour, Migration and Social Security of Spain took place in Madrid. This is the second of its kind following a meeting on 3 December 2018, where the European Commission hosted a high level conference on tackling intolerance and discrimination against Muslims in the EU. One hundred fourteen participants from civil society organisations and public authorities across all the EU Member States came together to make progress on cooperation to tackle intolerance, hate crime and anti-Muslim racism. The program included not only keynote speeches and round tables, but workshops where civil society actors, state officials and people from bureaucracy came together to exchange experiences, ideas, and best practices examples.
The reason, the European Commission tackles the issue of Islamophobia is due to the creation of a Coordinator on Combating Anti-Muslim Hatred on 1 December 2015. Tommaso Chiamparino was appointed to this position on 1 July 2018 succeeding David Friggieri,. The Coordinator's main mandate is to address anti-Muslim hate speech, hate crime and discrimination; the key stakeholders are organisations that deal with anti-racism and non-discrimination policy at European and national level. Similarly, there is a Coordinator on Combating Antisemitism. The mere existence of these two institutions reveals the symbolic importance the European Commission gives both forms of racism. At the same time, from early on there were concerns expressed by the European Coalition Against Islamophobia that this position lacks a clear mandate.  In an open letter to the then-First Vice-President, the Commissioner and the Director-General (when still David Friggerie was the Coordinator), the Coalition asked for clarification on "what the role of the coordinator entails in terms of representation, official communication and actions that can be undertaken, also defining the remit of issues to be covered." As the Coalition argued, "the appointment of one dedicated person does not replace strong political will, actions and effective policies." With the new Commission in place now, one will see if these recommendations and thus the voices of umbrella organizations connected to grass root movements are heard or not. Chiamparino sees himself in "a facilitator role," trying to bring together different actors from the European Commission's services to the grassroots organizations into this fight against Islamophobia, which for him goes hand in hand with fighting for the rights of everyone, for an open, diverse society.
Another concern expressed by the Coalition was that fighting Islamophobia has not been dealt with at the same level as fighting other forms of racism such as antisemitism or Anti-Ziganism (also known as Romaphobia or Anti-Gypsyism).  For example, the European Parliament adopted a resolution on combating Antisemitism on 1 June 2017 that entails specific policy recommendations for the EU level as well as national level. As well, the European Parliament passed a resolution to combat anti-Gypsyism with specific policies, but has yet to pass one for combatting Islamophobia.
In the workshops and discussions, fundamental questions about a shared definition of anti-Muslim racism for European institutions were raised along with exchanges about "training the police to recognize Islamophobic hate crime or how to work together with the equality bodies and to ensure a mechanism of cooperation between civil society and political bodies and prosecution of cases." Other than the roundtables with European Muslim leaders, which were held four times in the past, this meeting with workshops presented a different framework to provide for a structural dialogue with a very practice-oriented output. It remains to be seen if structural reforms – from the highest European level to the national and regional level – will also follow from these initiatives. This will depend on national governments and the question is whether they are willing to host similar events across Europe to foster the work on combatting anti-Muslim hatred and anti-Muslim racism. A coordination and alliance on different levels that goes hand in hand with small steps of concrete work will be necessary for a long-term success.