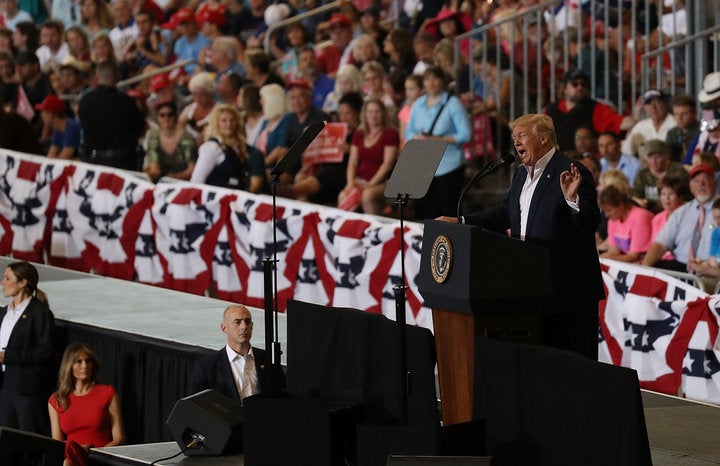 Donald Trump Has Never Stopped Lying About Muslims
This op-ed by Bridge Initiative Senior Research Fellow Arsalan Iftikhar originally appeared in HuffPost.
It's been just over two years since then-candidate Donald Trump called for a "total and complete shutdown of Muslims entering the United States." It's not quite 11 months since his administration first announced the institution of a travel ban on visitors from several majority-Muslim countries. And it's been two weeks since the president took time out from the debate over the Republican tax bill to share a series of violent anti-Muslim videos on Twitter. Indeed, Trump has used Islamophobia throughout his short political career, spreading hate and misinformation about Muslims to stoke his base and attack his opponents. Unsurprisingly, hate crimes targeting Muslims in the U.S. have risen two years running.
Here, for people of conscience who are concerned by the growth of Islamophobia in the U.S., are ten of the worst lies told by Donald Trump about Muslims:
10) Trump Mentions Non-Existent Terror Attack "Last Night In Sweden"
During a February 2017 rally in Florida, Trump told a cheering crowd: "You look at what's happening… We've got to keep our country safe. You look at what's happening in Germany, you look at what's happening last night in Sweden. Sweden, who would believe this?"
But there was no terror attack in Sweden. It simply never happened.
"Sweden? Terror attack? What has he been smoking?" tweeted former Swedish prime minster Carl Bildt.
9) Trump Says Neighbors Saw "Bombs All Over" San Bernardino Shooters' Apartment
During the second presidential debate between Trump and Hillary Clinton, a Muslim woman asked Trump how he would help millions of Muslims in the U.S. overcome the stereotype that they pose a threat. Trump responded by referring to the December 2015 San Bernardino shooting and insinuating that Muslims knew about the attack beforehand:
"In San Bernardino, many people saw the bombs all over the apartment of the two people that killed 14 and wounded many, many people… Muslims have to report the problems when they see them,"