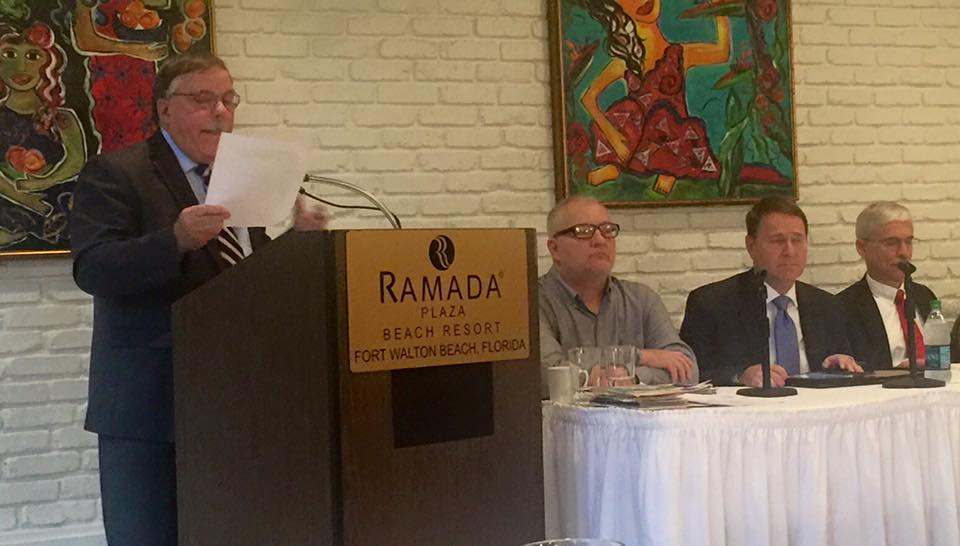 As Islamophobia Surges, Anti-Muslim Speakers Exploit Fears
As the election season has set into motion a flurry of anti-Muslim rhetoric, and set off an alarming number of anti-Muslim attacks, another consequence has surfaced in recent months in local boroughs across the United States: small anti-Muslim speaker circuits that thrive off of public anxieties and prey on unwitting citizens. In the decade-and-a-half since 9/11, anti-Muslim speakers, bloggers and activists like Robert Spencer and Brigitte Gabriel have become a dime a dozen. They get regular spots on primetime news outlets, routinely speak before packed audiences, and, as research shows, profit greatly from their trade. But equally concerning are lesser known speakers whose turf is restricted to local communities. Self-made citizen "experts" in the age of ISIS and Donald Trump, they've taken to high school gymnasiums, neighborhood restaurants, and public libraries to warn communities of the supposed dangers posed by Islam.
Self-Styled Citizen Experts
Last month, inside the Vision Church at Christian International, a charismatic worship center in Santa Rosa Beach, Florida, some 30 people showed up for an event titled "Understanding the Impact of Refugee Resettlement: Economically, Socially and Culturally." A local news affiliate described those that gathered as "fueled by the belief that Muslims are quietly trying to infiltrate American culture and destroy it." Among the speakers was a man who simply went by the name "Hassan," and David Gaubatz, a retired member of the military who gained notoriety in 2009 when his son, Chris, posed as an intern for CAIR and stole hundreds of internal documents that his father later used in his book, Muslim Mafia. Other presenters included Randy Osborne, a Republican Party leader and lobbyist; Don Barnett, an application software developer; and Douglas Layton, a Tennessee businessman whose evangelical organization, Servant Group, set up a chain of Christian schools in Kurdistan.
"I had kind of gotten out of the lecture circuit," Layton said. "I'm getting back into it because I think we're at a very critical moment in our history."
These types of assemblies, while billed as informative and educational, rely less on the alleged expertise and credibility of those who speak and more on the fear of those who attend. A case in point is that of Ron Branstner, a car salesman from St. Cloud, Minnesota who travels across the North Star state, warning that refugees will soon take over, "get rid of our Constitution, get rid of our way of life and implement it with another way of life called …" The crowd of 100 at The Landing Restaurant inside Avon, a town of about 1,400, responded in unison: "Sharia!" As the Star Tribune reported, Branstner isn't alone. A.J. Kern, a columnist for the St. Cloud Times; Cynthia Khan, a member of the Christian organization called People of the Book Ministries; and Jeffrey Baumann, a doctor from Coon Rapids, MN who was raised in Saudi Arabia, show up "in churches, restaurants, VFWs [Veteran of Foreign Wars groups] and community centers to address crowds and air concerns about immigrants, the Quran and what they see as a threat to the U.S. Constitution."
In early January, Baumann hosted a chicken dinner "Sharia 101″ talk (flyer featured above) at a Minnesota eatery that triggered a local backlash. Some groups pointed to his history of agitating the public over proposed mosque construction and tendency to make inflammatory statements about Muslims. At the event, Baumann warned that Muslims will soon outnumber Christians in the United States, and urged the attendees to visit the Muslim foot-washing station at a local University and "make a scene." The group that hosted Baumann's talk, Peace in St. Cloud, also sponsored a series of talks in late May by Usama Dakdok, an anti-Muslim preacher whose Internet videos include such titles as "Every Muslim is a Demon!" Dakdok, a Coptic Christian who founded the evangelical group Straight Way Ministries, has called Islam a "wicked cult," and said that Muslim Americans "will kill your children." Beyond Minnesota, his speaking circuit has taken him to Indiana, Texas, Wisconsin, and New York.
Lack Credibility & Linked to Islamophobia Industry
A concern about speakers like those mentioned above is that they have links to more influential individuals and groups that comprise the Islamophobia "industry." For example, ACT for America's Minnesota chapter hosted a June speech by Usama Dakdok, who is also closely associated with Robert Spencer and Pamela Geller (pictured together below). Clare Lopez, who speaks regularly at events across the country, is a member of the Center for Security Policy (CSP), the DC think-tank run by former Cruz adviser Frank Gaffney. And speakers like Jeffrey Baumann and State Senator Dave Brown, who attended Baumann's "Sharia 101″ event in January, have cited CSP's material, including its pamphlet "Sharia in American Courts."
Possible Consequences
Beyond the spread of misinformation that stems from ideologically charged representations of Islam and Muslims, the speaker circuits that are popping up across the country have also prompted threatening outbursts and violence targeting that Muslim communities. Last December, a few weeks after Dakdok spoke in Grand Forks, Minnesota, a Somali restaurant in the city was firebombed. That month, the provost of Bemidji State University noted that Muslim students were increasingly the targets of harassment. In Minnesota, especially, which harbors the largest concentration of Somalis in North America, harassment towards Muslims has become more frequent in recent months. Some members of the Minnesota legislature were so concerned about the effects of rising anti-Muslim rhetoric, in fact, that one day after the Brussels attacks, fearing its politicization and blowback on the local Muslim community, they addressed the "normalization of hate speech" and urged calm.
Conclusion
Events likes those mentioned above, which lambast the religion of Islam and paint Muslims as a unique threat, warrant public scrutiny and skepticism. It is critical to distinguish ordinary citizens whose ideological leanings and self-study compel them to speak with authority on Islam from those members of our society with recognized credentials, trusted affiliations, and a commitment to advancing American values of religious freedom and pluralism. Part of that lies in rejecting representations of Muslims and Islam that are expressly violent or that rest on conspiracy theories, and instead embrace information that acknowledges existing challenges while offering nuance and context that present a fuller, more accurate portrait. One-dimensional narratives bandied about by local armchair scholars jeopardize the safety of the Muslim community and, as a result of propagating misinformation, all Americans.