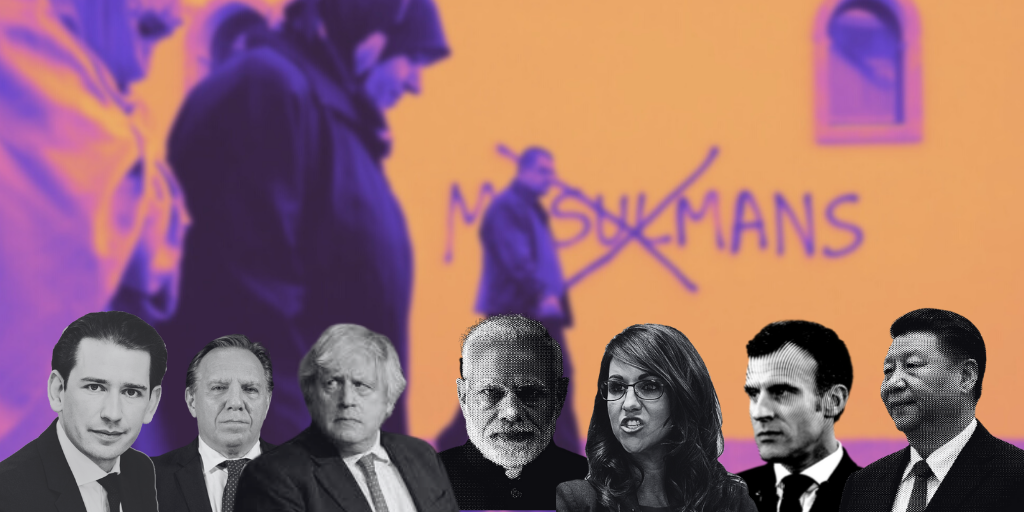 2021 Islamophobia In Review: Canada
Overall, 2021 demonstrated that Islamophobia remains a constant and growing threat around the globe. Anti-Muslim racism in 2021 remained ever present as hate crimes and individual attacks targeting Muslims persisted. Across the globe, the key players of anti-Muslim racism were again states themselves, as this year witnessed increasing discriminatory legislation and policies. China continued to deny the growing body of evidence pointing to genocide being committed against Uyghur Muslims and an international tribunal was held in the U.K. with testimony from survivors of Xinjiang's concentration camps. In Canada, a man killed a Muslim family of four in a horrific calculated hit-and-run, leading to Canadian Muslims demanding the government take concrete measures to tackle Islamophobic violence. In France, President Emmanuel Macron's government took a page from China's book by implementing legislation aimed at constructing a state-approved Islam, resulting in widespread discrimination targeting Muslim civil society and curtailing the rights of French Muslims, especially women. Similarly, the Austrian government took measures to intimidate and silence Austrian Muslim activists and organizations, even going so far as to publish a map detailing the locations of hundreds of mosques and associations. In the United Kingdom, the ruling Conservative party persisted in evading calls to address institutional Islamophobia within its ranks. State hostility and prejudice towards Muslims was present across the European continent, with rulings aimed at restricting Muslim identity such as halal meat and hijab bans. In India, the country's growing Hindu nationalist forces retained last year's theme of conspiracy theories, claiming Indian Muslims were engaging in "love jihad," "economic jihad," and even "narcotics jihad." Additionally, there were large episodes of anti-Muslim violence in various parts of the country such as Tripura, Gurgaon, and Assam, all of which were supported by the rising Hindu nationalist voices. The year was also spent uncovering the role of social media platforms in larger campaigns of violence targeting Muslims as seen in India and Myanmar. In the United States, the country marked twenty years since the deadly September 11th attacks and reckoned with the impacts and consequences of two decades of the War on Terror at home and abroad.
2021 Islamophobia in review: Canada
In July of 2021, Mustafa Farooq of the National Council of Canadian Muslims (NCCM) made a chilling observation: "The reality is that Canada has suffered more mass killings motivated by Islamophobia in the last five years than any other country in the G7. This cannot be allowed to continue." Farooq's comments came a little over a month after a deadly targeted hit-and-run in London, Ontario that killed four members of a Canadian Muslim family, with the sole survivor being a 9-year-old boy. The incident sent shockwaves across the country, and Canadian Muslims called on the government to take greater action against rising anti-Muslim hatred in the country beginning with tackling bigoted rhetoric and support for discriminatory policies amongst those in power. The mass murder in London was just one of dozens of attacks that occurred throughout 2021 targeting Muslims, with visibly Muslim women bearing the brunt of the attacks, and their places of worship. In addition to these violent episodes, there was renewed conversation about institutional Islamophobia in the country as Quebec's Bill 21 and the role of politicians in amplifying anti-Muslim rhetoric made headlines again. 

The year began with uneasiness and fear as a spate of attacks targeted Muslim women living in Edmonton, Alberta. In the month before the new year, there are three reported hate-motivated incidents in the span of eight days in the city. In a virtual news conference in January 2021, the family member of two Black Muslim women who were targeted stated the two individuals were "violated [and] dehumanized," and the attack had "shattered the illusion of our safety." During the incident, a man yelled racial obscenities at the mother and daughter, pushed both women to the ground, ripped off the mother's hijab, and yelled "go back to your country." Nearly a year later in December 2021, Richard Bradley Stevens, the perpetrator of the crime, remained at large as authorities revealed he missed his court appearance.

A string of attacks high-profile day time attacks continued in the city in 2021 as Black Muslim women wearing the hijab faced threats, harassment, and physical assault, leading many Muslim women fearing for their public safety, with one individual stating, "I've always been hyper-vigilant in public spaces because of my identity. But hearing about these attacks has made me more anxious and aware of my surroundings." Community members also noted that while the media is finally paying attention to these assaults, targeted attacks against Muslim women are a common occurrence, noting that "Most of my visibly Muslim friends and family members have a story of some kind of Islamophobia. The general public hears about this through the media, while our reality is that these are our sisters and our mothers." In addition to these assaults on Muslim women, individuals also targeted residences and religious spaces, as graffiti saying "Kill all Muslims" was scrawled in the elevator of an apartment building, and a swasitka was painted on a mosque.

In June 2021, Nathaniel Veltman mowed down a Canadian Muslim family out on an evening walk, killing four members of the Afzaal family and seriously inuring 9-year-old Fayez, who is now an orphan. Prime Minister Justin Trudeau called the incident a "terrorist attack" as Canadian Muslims were left shocked and scared with painful memories resurfacing from 2017's deadly Quebec mosque massacre, and many left feeling "it could have been any one of us."

As the country reeled from the horrifying episode and the local community received an outpouring of support and solidarity, Canadian Muslims, rights activists, and journalists called attention to the growing anti-Muslim hostility in the country, which many argued was being supported by those in power. In response to the horrific crime, politicians across party lines issued their condolences, but many rights activists noted that a number of these individuals had opposed a 2017 motion (M-103) to condemn Islamophobia. Avnish Nanda, a public law litigator stated, "There has been no reckoning, no apology, no real critical engagement with how these MPs fed into the Islamophobic narratives over the past few years due to their stance on M-103." In one piece, Al Jazeera columnist Andrew Mitrovica argued the former Prime Minister Stephen Harper had played "accelerant-in-chief of fomenting suspicion and animus towards Muslims he was duty-bound to have, instead, welcomed and celebrated as loyal, devoted Canadians." Bridge researcher Mobashra Tazamal summarized the decades of discriminatory rhetoric and policies supported by politicians, holding that perpetrators of deadly anti-Muslim attacks "feel supported and validated by those in power who promote anti-Muslim tropes and institute policies that subject Muslims to collective punishment." In the wake of the grief that gripped the community, Canadian Muslims declared that words were not enough and the government needed to take action against rising Islamophobia.

The government's response involved holding a national summit on Islamophobia, which human rights advocate Amira Elghawaby noted "spurred dialogue…and consultations on a scale not previously seen," as "hundreds of submissions from a long list of civil liberties organizations, mosque and community associations and groups," were made. However, Elghawaby was careful to add that "One day was never going to be enough to unpack it all, flesh out all the ways for governments to make amends, and hold them to it." Further, advocacy and rights organization's emphasized how it was no longer enough for politicians to simply rehash "messages of hope and sorrow the Muslim community has heard before," and they expected concrete measures as to how the those in power would tackle anti-Muslim racism in society. In the least up to the summit, the National Council of Canadian Muslims released 61 recommendations to "the federal, provincial, and municipal governments calling for specific commitments to combat Islamophobia." Following the summit, the NCCM revealed that while a "number of important commitments were made by the federal government, there was much that was not done," specifically noting the federal government's refusal to being involved in the legal challenge to Bill 21 in Quebec- a piece of legislation that NCCM identified as creating "state-sanctioned second-class citizenship."
In June 2019, Quebec passed Bill 21, which "prohibits those who wear a 'religious symbol' from occupying a 'position of authority' in any public service job." Since its passage, commentators and human rights activists have noted how the law has "institutionalized discrimination in employment for Muslim women in certain occupations in the public sector." In December 2021, the "removal of Fatemeh Anvari put a face and a name" to Bill 21 after the elementary school teacher was removed from her post and reassigned to another position after she refused to remove her hijab. The case reignited the debate over the bill as parents and children protested against the teacher's removal. Politicians also commented on the incident, with one Minister calling it a "cowardly" move, and a Conservative MP saying it's an "absolute disgrace." However, the Quebec government itself defended the teacher's removal and reassignment, serving as yet another example of the number of ways government leaders have supported and promoted legislation and policies that severely restrict the rights of Canadian Muslims. Bill 21 will most likely be in the headlines again next year as a number of cities across the country have joined together to contribute funds for a legal fight against the law.

In 2021, Canadian Muslims experienced a wave of hate crimes and the mass murder of a Muslim family left the country in shock and the community in great fear. As the community called on politicians to take concrete steps to enact real change, rights activists also noted how those in power were also responsible for growing anti-Muslim discrimination. As Bridge researcher Mobashra Tazamal summarized, "anti-Muslim racism is accepted and even applauded among mainstream media and elected officials. This environment otherizes Muslims, creates public support for programs and policies that single out the community, and makes Muslims targets for attacks." Rights activists and community organizations have repeatedly noted that true efforts to tackle Islamophobia must start at the top.
* To download full article series click here