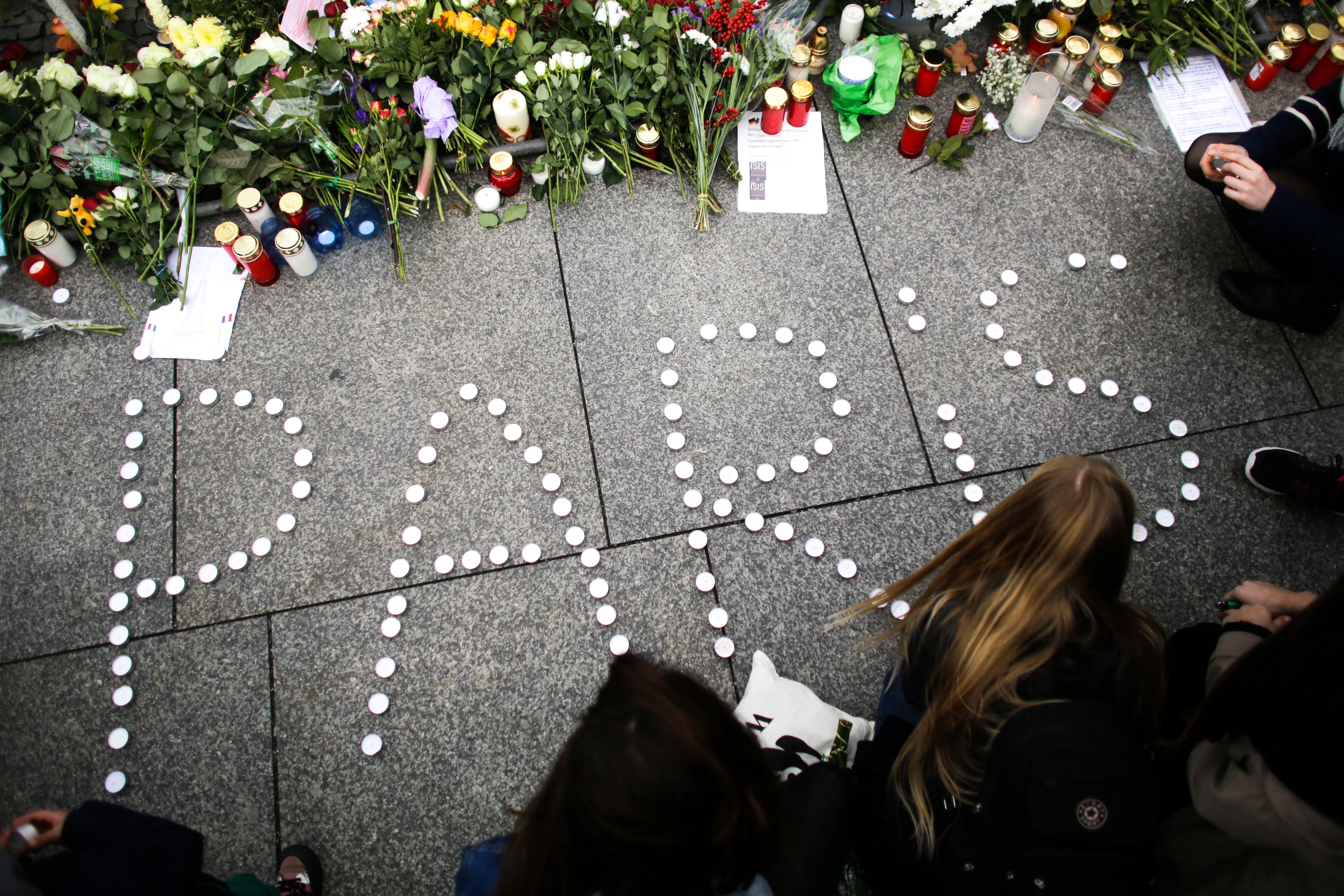 The 10 Best and Worst Responses to the Paris Attacks
Shortly after the series of attacks in Paris that left over 100 people dead, people around the world were taking to the Internet to voice their reactions. The assault, which ISIS claims it carried out, elicited millions of messages of solidarity, including from Muslim leaders and regular people, around the world, with the French people, who had witnessed the largest attack on their soil since World War II. Others pointed out the atrocities around the world (the ISIS bombings in Beirut and Baghdad, for example) that didn't receive the outpouring of social media condolences that the Paris attacks did.
Many of the responses focused their attention on the world's Muslims, who were trending on Twitter within hours of the attack. Some social media users warned against an increase of Islamophobia in the wake of the attacks, while others posted the kinds of messages about Islam and Muslims that many were afraid of, namely discriminatory remarks and threats. Other reactions come from some of America's top politicians and public figures, as well as religious leaders and ordinary citizens.
Let's get the bad ones over with. Here are ten of the worst reactions we noted in recent days.
1. This Photoshopped picture of a Sikh man in a suicide vest went viral.
Despite that the original photo was of a Canadian man taking a selfie with his new iPad, this photo went viral on social media and was used by both pro-ISIS groups and mainstream European media to depict the perpetrators of the Paris attacks.
2. Several American governors announced plans to halt their state's Syrian resettlement programs.
In wake of Paris attacks, I'm directing all state agencies to suspend the resettlement of addl Syrian refugees in IN https://t.co/Gtg5ccjMsU

Governor Mike Pence (@GovPenceIN) November 16, 2015
As David Francis writes in Foreign Policy, "whether these governors can actually keep Syrians out of their states remains to be seen." Legal challenges to these policies can be anticipated.
3. And some GOP presidential candidates said the U.S. should prioritize resettling Christian refugees, and implied that Muslims are more of a threat.
Former Florida governor Jeb Bush said this weekend that "we should focus our efforts as it relates to refugees on the Christians that are being slaughtered."
Senator Ted Cruz called it "lunacy" to allow in Muslim refugees from Syria, saying, "There is no meaningful risk of Christians committing acts of terror. If there were a group of radical Christians pledging to murder anyone who had a different religious view than they, we would have a different national security situation." This isn't the first time GOP presidential candidates have said that Christian refugees should be prioritized to the exclusion of Muslims.
4. Donald Trump praised the NYPD's discriminatory Muslim spying program.
On MSNBC's "Morning Joe" on November 16, GOP presidential frontrunner Donald Trump said this when asked what he would do domestically to prevent an attack by ISIS:
"You're going to have to watch and study the mosques. Because a lot of talk is going on at the mosques, and from what I've heard in the old days, meaning a while ago, we had great surveillance going on in and around mosques in New York City…I'm not sure it's a fact but I heard that under the old regime we had tremendous surveillance going on in and around the mosques of New York city."
The spying program Trump praised did indeed exist. A secret program by the NYPD, the "Muslim Mapping" program "dispatched plainclothes detectives into Muslim neighborhoods to eavesdrop on conversations and built detailed files on where people ate, prayed and shopped, the department said." It was uncovered by investigative reporters with the Associated Press in 2011 and later shut down. This "tremendous" 10-year program resulted in no leads or terrorism cases.
In the wake of the Paris attacks, Trump also referred to Syrian refugees as a Trojan horse for ISIS fighters.
5. Ann Coulter — unsurprisingly — suggested a policy based on gross generalizations.
Why does NO ONE say the obvious thing on TV?! It's insane. Don't want terrorism in US? Stop importing Muslims! — Ann Coulter (@AnnCoulter) November 14, 2015
6. And Franklin Graham sent his most troubling Tweets yet.
As we pray for France we also need to pray for wisdom for the world's leaders & that Islam will be stopped in its tracks. #PrayForParis — Franklin Graham (@Franklin_Graham) November 14, 2015
Islam is at war with us–ISIS has said "American blood is best-And we will take it soon." #ParisAttacks are "first of the storm & a warning." — Franklin Graham (@Franklin_Graham) November 14, 2015
In recent years, he's also advocated banning Muslim immigration to the U.S. and called Islam a "religion of war" that is "wicked and evil.
7. Many people, including journalists, revealed that they don't know how to use Google, and claimed Muslims haven't spoken out against terrorism.
Like CNN International journalist John Vause, who said he had "yet to hear a condemnation from the Muslim community on this." This, despite the fact that he'd just finished interviewing a Muslim civic leader, Yaser Louati, who said, emphatically, "Sir, they were not from our ranks! We cannot accept the idea that these people are from us, they are not."
(And, if anyone is wondering about Muslims' condemnations, just Google "Muslims condemning ISIS,"
8. And then individuals started making death threats to those they thought were Muslim, some acting out violently.
An Uber driver from Ethiopia, who is Christian, was assaulted by a passenger who used anti-Muslim slurs and asked if he was Muslim. An Ontario woman was beaten by two men when she was picking her son up from school. They yelled, "You terrorist, you don't belong here."
An Oklahoma man called 9/11 on himself, saying he was experiencing "metal illness" and going to "go out there and just start shooting anything that looks like a Muslim after what they did to France." The man was detained after police shot and injured him.
In a video that surfaced online, a man with a pistol threatened to kill one Muslim or Arab a week across Quebec. The head of Canada's anti-Muslim PEGIDA group also made a call on Facebook for Canadians to take action against mosques. The post was later taken down.
Residents in Dearborn, Michigan, home to America's largest Muslim community, were targeted in a Tweet that said, "Let's f— that place up and send a message to ISIS. We're coming." In Houston, Texas a man is being charged with making "terroristic threats" to a mosque.
And in Florida, a man left phone messages at two mosques. In one he said, "We are tired of your (expletive) and I (expletive) personally have a militia that is going to come down to your Islamic Society of Pinellas County and firebomb you and shoot whoever is there in the head. I don't care if they are (expletive) two-years-old or 100." The police say the man had no intention of committing violence.
9. Some North American mosques were the target of arson, vandalism, and gunfire. And a Florida Muslim family came home to find bullet holes puncturing their house.
A Nebraska mosque was spray painted with an Eiffel Tower, and the exterior of an Austin, Texas area mosque was littered with feces and torn pages of the Qur'an. A Connecticut mosque was sprayed with gunfire, with some bullets entering the space where Muslims gather to pray. Fortunately, no one was inside.
Outside a mosque in Oregon, demonstrators yelled things like, "Islam is a lie!" and "You're nothing more than a pawn of Satan, you demonic Muslim dogs!"
And in Peterborough, Ontario, police are treating an arson at the Masjid al-Salaam (literally, the Peace Mosque) as a hate crime.
Before a Florida family discovered that someone had shot at their home, they had been at a charity event to benefit those experiencing homelessness.
10. A number of passengers of "Middle Eastern descent" were escorted off a plane after appearing "suspicious."
What were they doing? Watching the news on a smart phone.
But not all the responses to the Paris attacks were as negative or disturbing as those mentioned above. There were also hopeful, positive developments in the wake of the massacre in France.
1. Muslims used the attention directed at them as an opportunity to break down misconceptions about their religion, and to affirm their place in Western society.
I am Muslim I am not a Terrorist Qur'an Teach's me to love everyone ? #MuslimsAreNotTerrorist ? pic.twitter.com/9T0Ulyq8Dh

— Huda (@Apk0n27) November 14, 2015
French imams were front and center among a group of mourners outside the Bataclan theatre, which saw the highest number of casualties. Together with the crowd they sang the anthem of France.
Syrian refugees, too, expressed that ISIS has nothing to do with them.
"It is not Islam, not our Islam." –Syrian refugee in Serbia responds to the Paris attacks. #MuslimsAreNotTerroristhttps://t.co/GYwhqgQ31r — AJ+ (@ajplus) November 14, 2015
2. Anticipating the charge that they "don't speak out," Muslims also produced a storm of condemnations of the Paris attack, and ISIS in general.
They used the phrase "I am a Muslim" to denounce the attack and the perpetrators, including the trending hashtag #MuslimsAreNotTerrorist. Islamic institutions and Muslim public figures speaking out range from the religious scholars of the prestigious Al-Azhar University in Egypt to the famous British Muslim musician Sami Yusuf, and many more.
My name is Sami Yusuf. I am a #Muslim. I condemn the #ParisAttack. Over 1.5 billion Muslims do. Please remember… https://t.co/rBOKcuv3kf — Sami Yusuf (@SamiYusuf) November 14, 2015
3. Democratic presidential candidate, Governor Martin O'Malley urged Americans to "be our best selves in the face of terrorism," writing this on Facebook on the night of the massacre:
"For the days to come we'll hear speculation, and sweeping generalizations about our Muslim brothers and sisters around the world who largely condemn these acts. We'll hear words motivated only by fear and ignorance. I hope we will turn deaf ears to hatred."
4. And President Obama said that only admitting Christian refugees to the U.S. would be "shameful."
"And when I hear folks say that, well, maybe we should just admit the Christians but not the Muslims, when I hear political leaders suggesting that there would be a religious test for which person who's fleeing from a war-torn country is admitted, when some of those folks themselves come from families who benefited from protection when they were fleeing political persecution, that's shameful," he said, his voice rising. "That's not American. That's not who we are. We don't have religious tests to our compassion."
And O'Malley followed up by saying that the move was "scapegoating an entire religious community."
5. Green Bay Packers football player Aaron Rodgers called out a "prejudicial" fan who disrupted a moment of silence before the game on Friday night.
Though it was unclear what Rodgers heard, fans reported hearing other attendees shouting things like "Death to Muslims" and "Muslims suck."
6. Young people highlighted examples of Islamophobia, in an attempt to turn negative experiences into greater awareness.
After riding in a cab with a Muslim driver who had been shunned by suspicious customers the night of the Paris attack, Alex Malloy called on his Facebook friends to "please stop saying 'Muslims' are the problem because they are not and they are feeling more victimized and scared to the day." His story went viral. So did this Tweet about a seven-year-old girl who asked, "Should I not tell people at school I'm Muslim anymore?"
I don't even know what to say #MuslimsAreNotTerrorist pic.twitter.com/a2L1N8OLJJ — cat from paramore (@acidxlrh) November 14, 2015
7. Interfaith gatherings said no to terrorism — and to Islamophobia.
In New Jersey, people of different backgrounds gathered together for an interfaith vigil. They asked attendees to also bring goods and warm clothes to distribute to the poor.
Interfaith events were also held in Oklahoma, Washington State, and at universities like Georgetown and Scranton.
8. A French Muslim asked his fellow citizens to trust him, by giving him a hug.
https://www.youtube.com/watch?v=lRbbEQkraYg He said, "I want to tell you that 'Muslim' doesn't necessarily mean 'terrorist.'" Dozens of French people came up to hug him, some of them crying.
9. And a Christian group in Australia proposed an easy way to defeat ISIS.
Please retweet. If you don't have a Muslim friend, I will be your friend. Lets defeat ISIS together. #ParisAttacks pic.twitter.com/vaS1c3aby4 — Qasim Rashid, Esq. (@MuslimIQ) November 14, 2015
Other commentators also encouraged this strategy, pointing out that ISIS thrives on the demonization of Muslims in the West.
10. After the arson at the Ontario mosque, Canadians helped raise over $100,000 to rebuild it.
The campaign, which called on people of all faiths or no faith, to contribute. They exceeded their original goal by $20,000.
The tragic events of this last week mark an important moment of conversation for our country and the world, and we at Bridge want to hear from you. What have you been hearing, reading, watching, listening to that you think should be added to one of our two lists? E-mail us, post to our Facebook page, or Tweet us.