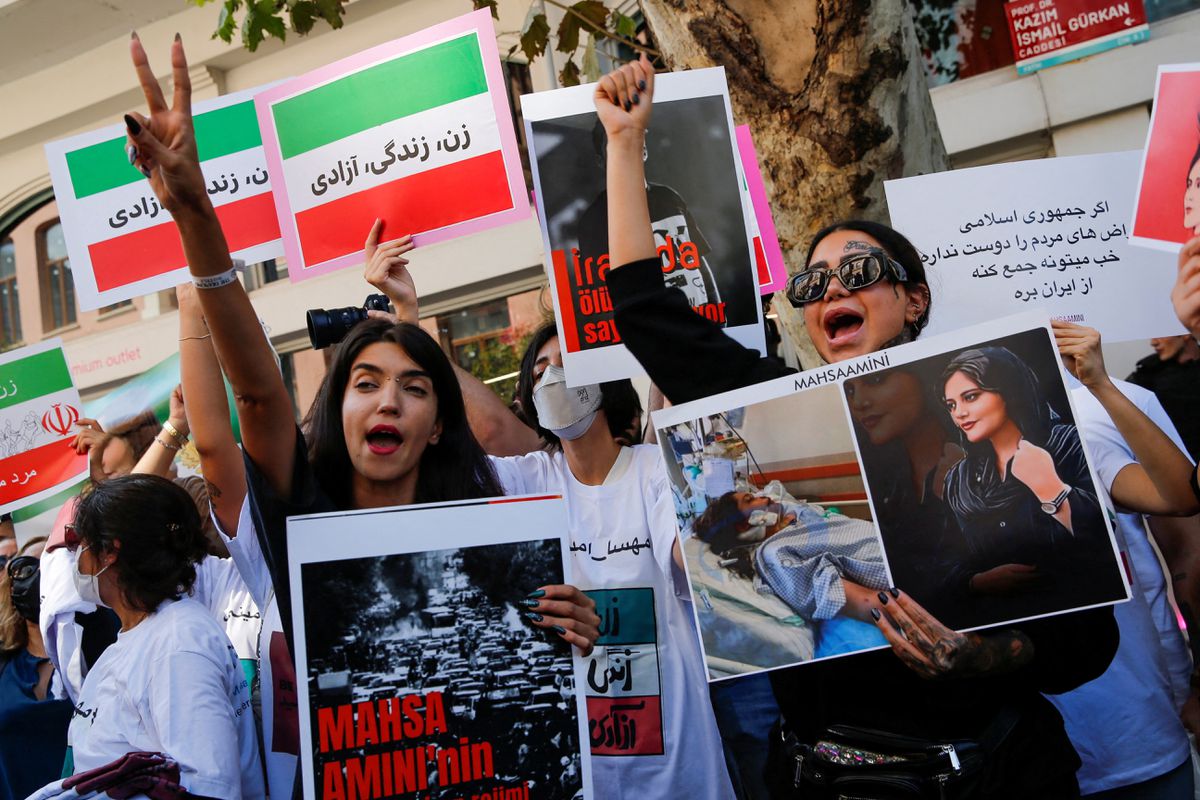 Please Don't Let Islamophobia Co-Opt Hijab Protests
In my nearly two decades as an international human rights lawyer, I have rarely seen stranger political bedfellows than watching anti-Muslim forces cheering pro-democracy Iranians in the wake of the horrific murder of 22-year-old Mahsa Amini by the Iranian government. On one hand, you have the pro-democratic aspirations of millions of Iranians who are challenging their government for imposing hijab on Iranian women. On the other hand, you have right-wing Islamophobes around the world who are cheering this current moment in Iran simply because they support banning the hijab for Muslim women in places like the European Union and/or India, where they freely choose to wear it as part of their religious freedom rights which are protected under international law.
A National Public Radio (NPR) headline summed it up quite perfectly: "In Iran, women are protesting the hijab. In India, they're suing to wear it." On both sides of this hijab debate, these struggles are a fight for personal freedom inside two different countries with two different governments (in two different societal contexts). On one side, there are brave Iranian protesters who are fighting for their right not to wear hijab. On another side, there are millions of Muslim women across India who are now legally fighting for their right to actually wear the hijab in their own homeland. 
Without considering "context versus content", there are some global voices on both sides of the geopolitical aisle who have broadly condemned the hijab as a monolithic tool of oppression (regardless of sociopolitical context). For millions of Muslim women around the world who freely wear the hijab everyday of their lives, this reductive thinking from both right and left is offensive.
For instance, European countries of France, Denmark, Netherlands, Austria, Germany, Bulgaria, Belgium, and Switzerland (among others) either all have a partial and/or total ban on hijab within their borders (Denmark became the 5th country in Europe to introduce a ban on face coverings in public places in August 2018). In Germany, far-right politician Jurgen Braun has used the recent Iranian hijab protests as support for his party's Islamophobic claims. Accusing the German government of taking insufficient action against growing Muslim populations inside Germany, the right-wing politician proclaimed that recent events in Iran were "very much related to the misogynistic and inhuman Islam".
"Western hegemony and Islamophobia make international solidarity complicated," according to Professor Shadi Mokhtari from American University. "Sometimes people and government officials in the West can easily use the scenes of women burning hijabs to feed their Islamophobia and sense of civilizational superiority over the Middle East as well as to find justification for devastating Western policies in the region, past and present," which include hijab bans in other so-called democracies like the European Union and/or India.
Karnataka is a state in southwest India where we are witnessing a similar attempt to govern Muslim women's bodies. A government order banning Muslim schoolgirls from wearing hijab in school was enforced and upheld by a local court, which ruled that wearing a hijab was "not essential" to Islam as a religion. Most recently, the case has landed with India's Supreme Court where its own judges admitted that they even have been unable to agree on the constitutionality of India's hijab ban in Karnataka.
Muslim girls and women across India have a fundamental right to an education, which is in dire jeopardy with these hijab court cases. Even though Muslims are the largest numerical minority across India, domestic analysts have found that female Muslims experience lower literacy rates than women of other religious minorities, and Muslim women have the lowest rates of enrollment in higher education institutions across India.
On the exact same day that 22-year-old Mahsa Amini died from her injuries in Iran, most of us never heard about a 16-year-old Muslim teenager in Baltimore, Maryland who was locked inside a school bathroom by a staff member and ruthlessly beaten by other students who pummeled her head, forcibly ripped off her hijab (which she freely chooses to wear), and attempted to choke her with her own headscarf. This young 16-year old Muslim girl had recently arrived in the United States after fleeing from Afghanistan with her family after her country's government collapsed to the Taliban (yet another government which legislates what a woman can or cannot wear).
Any reasonable person knows that forcing someone to wear an item of clothing (like inside Iran and/or Afghanistan) is a violation of rights, but so is forcing someone to remove an item of clothing (like inside EU countries and/or India). One of the most common strategies of anti-Muslim forces worldwide involves using monolithic lenses for anything related to Islam in an attempt to victimize Muslim women (while usually vilifying Muslim men at the same time). This is beyond opportunistic since the global community needs united movements against state violence and not fake support from duplicitous actors from the left or right hiding their Islamophobia behind a thinly-veiled headscarf.