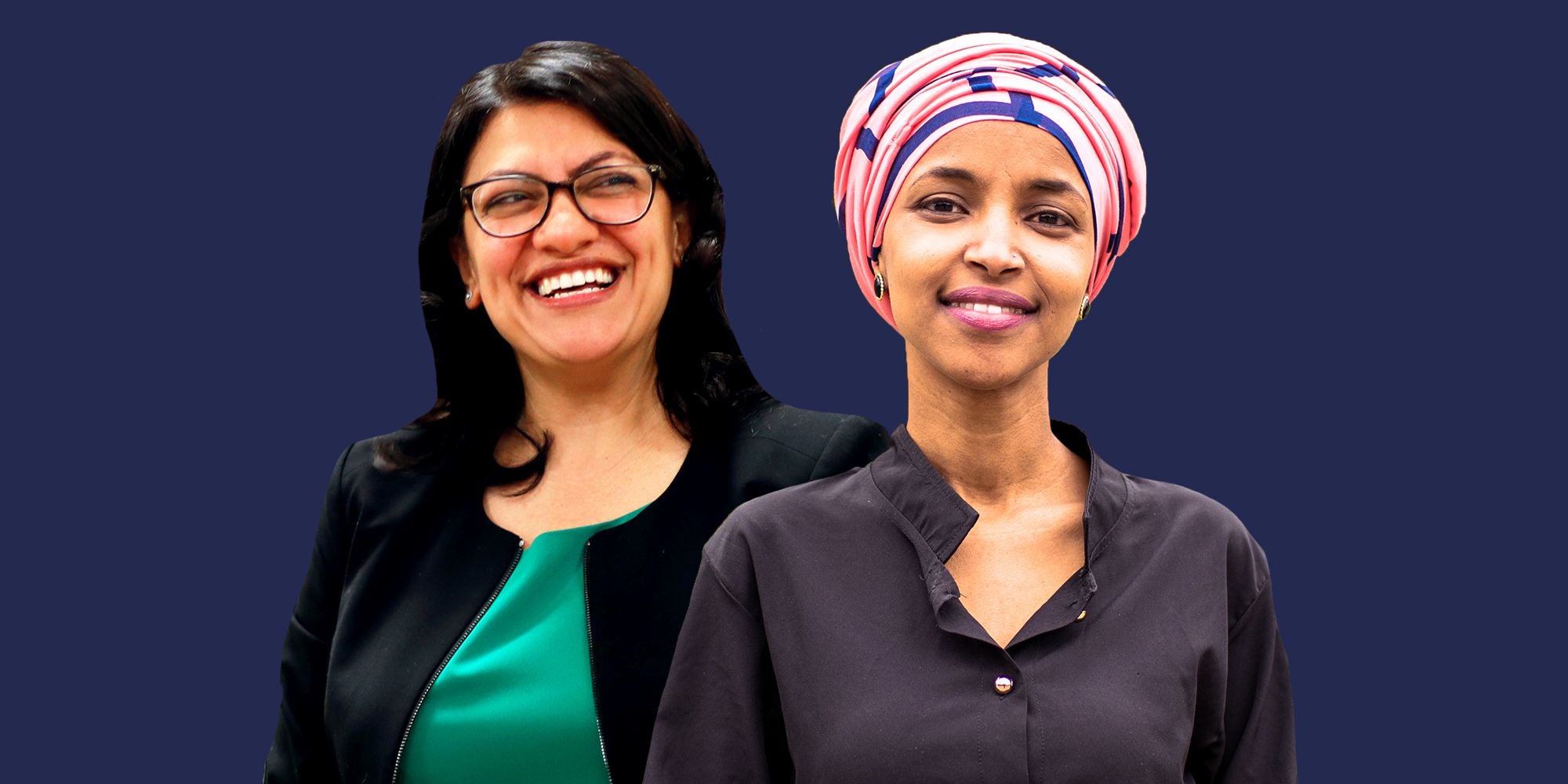 Muslim Congresswomen Face Islamophobic Dog-Whistles
Political trailblazers like Congresswomen Ilhan Omar (D-MN) and Rashida Tlaib (D-MI) made history during the 2018 midterm elections by becoming the first two female Muslim members of Congress.  Since that time, we have also seen a rise in dog-whistle Islamophobia against these two first-term Congresswomen because they challenge status quo conventional wisdom on Capitol Hill.
Most recently, it was publicly reported that a right-wing Republican congressman from New York recently "freaked out" when he heard that Congresswoman Ilhan Omar (D-MN)- a black Somali-American Muslim woman- was selected for the same House subcommittee on Foreign Affairs as himself.
"Was just selected as Ranking Member of the @HouseForeign Subcommittee on Oversight & Investigations!" Rep. Lee Zeldin (R-NY) recently tweeted. He continued: "Just learned Freshman Rep. Ilhan Omar was also put on this committee w oversight of US foreign policy. Crazy to watch what House Dems are empowering/elevating."
Wait a minute. Did this Republican congressman just refer to a Muslim congresswoman as an object?
Instead of stooping to his level, Congresswoman Omar issued a swift response to this bizarre dog-whistle statement against her. After I tweeted about Rep. Zeldin's bizarre remarks, Congresswoman Omar quoted my tweet and publicly replied to me by saying: "Don't mind him, he is just waking up to the reality of having Muslim women as colleagues who know how to stand up to bullies! It's gonna be fun watching him lose his marbles."
Many people know that Congresswoman Rashida Tlaib (D-MI) is a proud Palestinian-American Muslim woman who currently represents the 13th district of Michigan in the U.S. House of Representatives. Like Congresswoman Omar, she has been in the political crosshairs of ideologues who seek to demonize them by  calling attention to select past statements taken out of context.
According to The Intercept, Congresswoman Tlaib announced in December 2018 that she was planning to lead a congressional delegation of fellow members of Congress to the Israeli-occupied West Bank. The article noted that her planned trip to Palestinian territory was a "swift rebuke of a decades-old tradition for newly elected [congressional] members: a junket to Israel sponsored by the education arm of the American Israel Public Affairs Committee, known as AIPAC, the powerful pro-Israel lobby group."
Congresswoman Tlaib further explained about her proposed Palestinian junket: "[They] have these lavish trips to Israel, but they don't show the side that I know is real, which is what's happening to my [Palestinian] grandmother and what's happening to my family there."
In response to Tlaib's proposed Palestinian trip, the chair of the House Foreign Affairs Committee Eliot Engel (D-NY) called her proposed trip "close-minded" and even had the audacity to lecture his Muslim (and fellow Democratic) congressional colleague.
"Instead of her talking about things, she's new here, she ought to listen and learn and open her mind and then come to some conclusions," said  Engel when he was asked about her proposed trip. "If you're going to be close-minded and have your views, no one's going to change her views. But I would hope that once you're elected to Congress, you would at least care to see the other side of the coin."
Excuse me?
"Yo [Eliot Engel] how are we ever going to obtain peace?" Congresswoman Tlaib replied in a tweet to the longtime New York congressman after his condescending remarks. "I hope you'll come with me on the trip to listen and learn. My sity (grandmother) will welcome you with an embrace & love. Please feel free to call me if you have anything to say," she added. "I am your colleague now."
Most people know that the term "dog-whistle politics" generally means saying something that sounds innocuous to some people, but which also communicates something more insidious when people read between the lines. Even though there are many white male members of Congress who hold white supremacist, anti-immigrant, homophobic and other noxious views, we should collectively be concerned when the first two Muslim women congresswomen seem to be selectively targeted by political ideologues who seek to effectively silence Muslim voices in Congress.