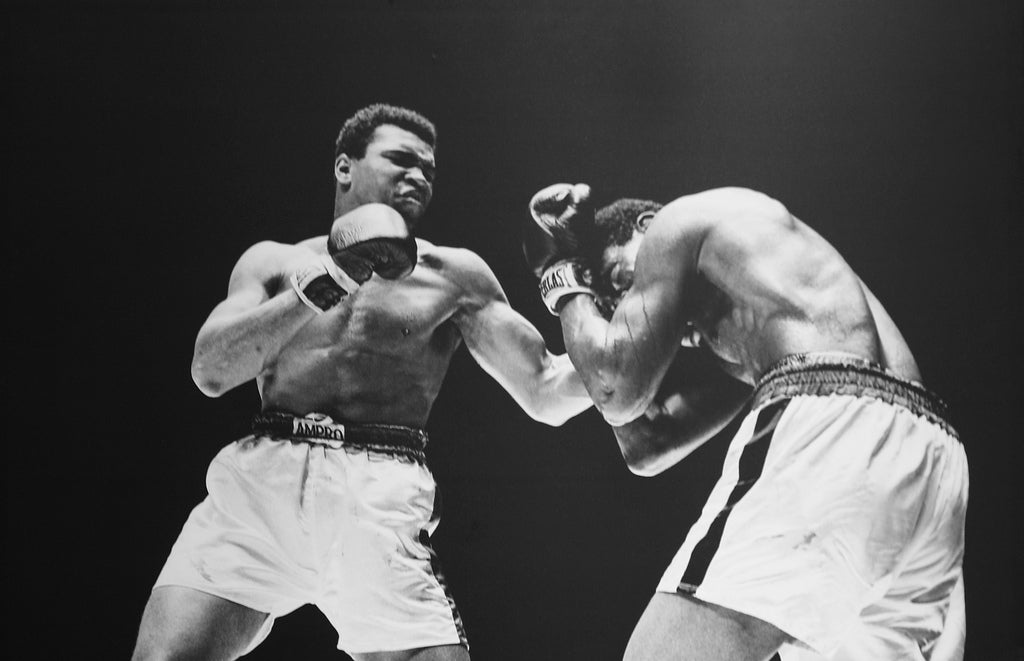 Bridge Initiative Project Director Dr. John L. Esposito offers the following reflections on Muhammad Ali and the gracious spirit that characterized several of "The Champ's" interactions with him over the years.
From the time I learned of Muhammad Ali's passing, I wondered if it made any sense to write something about three especially memorable personal encounters amidst the outpouring of media stories and accolades. This morning, as I settled into my cockpit in front of my computer to another day of responding to email and writing, I reached for something in a letter-holder, and discovered an autographed $1,000,000 bill signed by Ali.
But I am getting ahead of myself.
Although I grew up following Muhammad Ali's career, I never expected to meet him. And then one evening, to my great surprise, there we were on a Swiss Air flight, both part of a delegation going to a gathering in Sudan. Ali, we were told, had come directly to Kennedy Airport from a hospital where he was being treated, and was tired and groggy from medication. It was on that trip that I had my first personal glimpse, the first of several, of a remarkable facet of Muhammad Ali's personality.
Shortly after the flight took off, a line of passengers from the economy cabin started trickling in. The word was out! One by one, people, most Europeans, approached the champ for his autograph. Given his condition, to my astonishment, Ali not only rose to the occasion but also exceeded it. Each person received not only an autograph but also couplet of rhyme! Each couplet was different "" I know because my colleague and I also requested an autograph, he for his daughter and I for my niece, and also received an individualized couplet.
Many years passed, and for reasons I cannot remember, Lonnie Ali, the champ's wife, invited me to join them for breakfast at The Mayflower Hotel in D.C. I arrived, sat alone and restless (this was before my iPhone) waiting for them, amidst tables filled with businesspersons and tourists happily talking and eating away. Enter Muhammad and Lonnie, and the scene suddenly changed. As they walked to the table, it seemed as though everyone had stopped and followed them with their eyes to our table.
We settled into conversation and just as quickly were interrupted by those who came over to greet Ali, tell him a brief story, etc. All that abruptly changed, when, to my surprise, in addition to the arrival of our breakfast, Ali produced a large copy of the Bible with passages marked in multiple colors. For much of the breakfast, although having some difficulty speaking, he enthusiastically proceeded to point out passages that he saw as contradictory or problematic. He seemed to enjoy pressing, even challenging me, to respond. It was clear from the way he moved through the volume and the sections color-coded that this was a long-term personal project.
As we finished breakfast, he whipped out autographed gifts. This time, not a handwritten couplet but a signed $1,000,000 bill! They looked real enough that recipients did a double take when they first received one.
After the meeting, from time to time, Lonnie Ali and I remained in touch as I served as one of many advisers in the preparation for the Muhammad Ali Center in Louisville, Kentucky. Our last meeting was in New York City where a small number of us gathered around a conference table with Ali and Lonnie. By now, Ali's Parkinson's had progressed and he seemed tired and listless. I remember wondering if he was following any of our conversation. No sooner did the thought occur, then I was startled, as if by the awakening of a sleeping giant. He proceeded to demonstrate that he had indeed heard and followed everything and now gave us his opinions/decisions. And typical of his warm personal style, he thanked us all and presented with Muhammad Ali G.O.A.T memorabilia, a cap and T- shirt, with an extra set for my Dad.
Throughout his astonishing worldly accomplishments, a three time heavyweight champ and global icon, a fierce fighter both in and outside ring for what he believed in, Muhammad Ali, throughout life's struggles, turned to Islam as his moral compass, often speaking of his passionate desire to make it to heaven. And now with his passing, as we say, May he rest in peace, what better Quranic verse (2:156) to recall than: "Surely we belong to Allah and to Him shall we return."