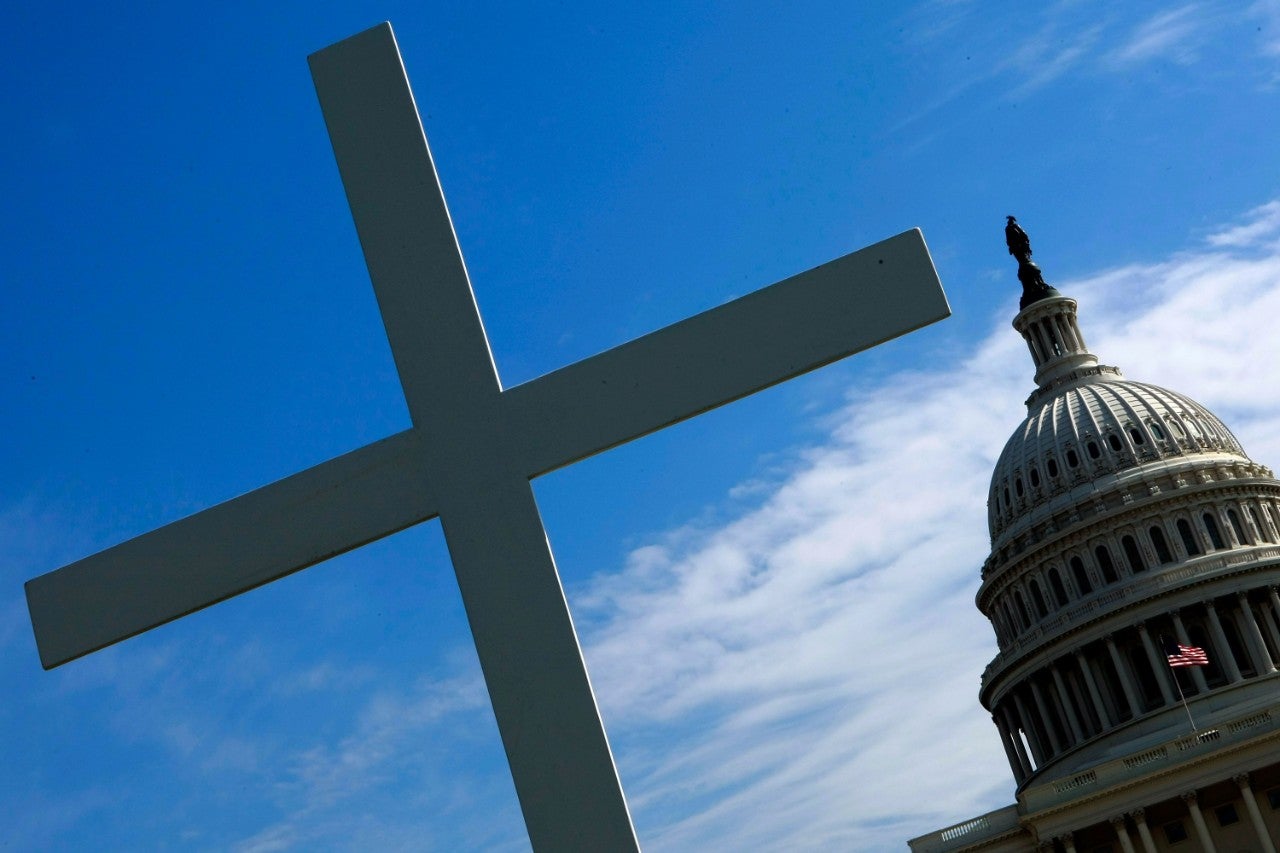 In Congress, Race and Religion Pose Challenges to Electability
In the final months, and moments, of former Senator Bob Bennett's life, he took it upon himself to apologize to Muslims for Donald Trump. During one of his hospitalizations, Senator Bennett asked his wife and son, "Are there any Muslims in the hospital? I'd love to go up to every single one of them to thank them for being in this country, and apologize to them on behalf of the Republican Party for Donald Trump." According to his son, Senator Bennett understood all too well the shared prejudice and struggles faced by his Mormon community with those of the Muslim community.
Senator Bennett passed away last month, but his legacy and integrity will endure. Sadly, this stands in sharp contrast to his co-religionist and former colleague, Senator Harry Reid, who allegedly told Nevada Congressional candidate Jesse Sbaih to give up his bid for office, because "a Muslim cannot win."
Sbaih seeks to join the only Muslim Members to (so far) serve in Congress. Congressman Keith Ellison from Minnesota was the first Muslim elected to Congress, in 2006. Congressman Andre Carson from Indiana joined him two years later. Both share similar back stories – Ellison and Carson are African Americans who converted to Islam as teenagers. Congressman Ellison made headlines when he was sworn into office with a Qur'an, and Thomas Jefferson's personal Qur'an at that.
Despite their continued influence and support by constituents, they have not been immune to today's noxious climate of Islamophobia. Last December, for instance, Congressman Carson received a death threat the same day he criticized Republican presidential candidate Donald Trump for his plan to ban all Muslims from the country.
Additional Muslim candidates who ran for Congress, albeit unsuccessfully, are Saba Ahmed from Oregon and Cheryl Sudduth from California. Their candidacies, like those of Sbaih, Congressman Ellison and Congressman Carson, are emblematic of the struggles faced by not only religious minority communities, but by racial minority communities as well.
Half a century before the first Muslim American was elected to Congress, the Sikh community found a powerful voice in Dalip Singh Saund. Congressman Saund was the first Indian American and, so far, only Sikh American elected to Congress, serving from 1957 to 1962 from California. He was instrumental in helping to pass the Luce-Celler Act of 1946, which allowed a quota of 100 Indians and Filipinos to immigrate to the United States every year. It also granted citizenship to Indian and Filipino nationals who were already residing in the US. Prior to its passing, Indians and Filipinos were legally defined as "ineligible races" for naturalization.
Since Congressman Saund's tenure in office, two Indian Americans have been elected to Congress. In the 2014 election cycle, Amar Kaleka ran, unsuccessfully, for Congress from Wisconsin. An Indian American of the Sikh community, Kaleka is the son of the late Satwant Kaleka Singh, the Oak Creek Gurdwara president and founder who was gunned down along with five other Sikh worshipers in a shooting rampage in August 2012 by a white supremacist. Keleka's candidacy marked an important step for a community that has been the victim of countless hate crimes and violent attacks since 9/11. Despite serious criminal allegations against Kaleka, his candidacy marked an important step for the Sikh community.
Two years prior to Kaleka's candidacy, the Hindu community celebrated a big victory with the election of Tulsi Gabbard from Hawaii, the first Hindu Member of Congress. Congresswoman Gabbard is ethnically Samoan, the daughter of a Roman Catholic and a Hindu convert. When sworn into office, she placed her hand on the Bhagavad Gita, the sacred Hindu scripture. Prior to the election, her opponent charged that her Hindu faith "doesn't align with the constitutional foundation of the US government."
For many American Muslims, this accusation is a familiar one. In September 2015, former presidential candidate Ben Carson asserted that he would only be willing to support a presidential candidate who practiced Islam if "they're willing to reject those tenets and…will swear to place our Constitution above their religion." Sadly, Congresswoman Gabbard has not softened her tone on American Muslims who have faced such similar discrimination.
So, why do these candidacies matter?
They matter because identity politics are important to American voters.
According to a 2015 Gallup Poll on American voting preferences for presidential candidates, 93% of Americans are willing to support a Catholic candidate, 91% a Jewish candidate and 81% a Mormon candidate. By comparison, only 60% are willing to support a Muslim candidate. That is a huge difference.
Additionally, 92% of Americans are willing to vote for an African-American candidate and 91% for a Hispanic candidate. Unfortunately Gallup did not poll for South Asian or Arab candidates, but one might suspect to observe a similar trend. Why? Because Arab Americans and South Asian Americans are often racialized as Muslims.
In today's climate of Islamophobic rhetoric by presidential candidates and increased violence against Muslims and those perceived to be, it is critical that minority communities be politically represented in Congress. The old adage, "if you're not at the table, you're for dinner," rings truer now than ever.