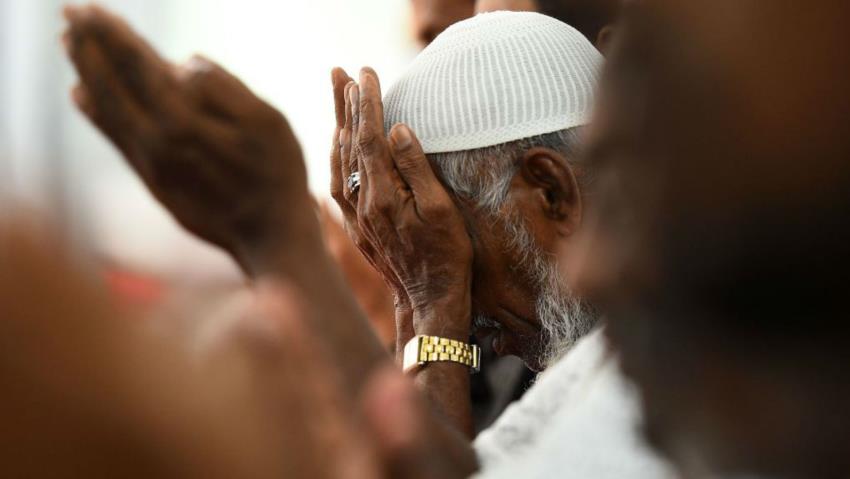 For Sri Lanka's Muslims, the Easter bombing anniversary marks a year of scapegoating and persecution
Originally published by The New Arab on April 17, 2020.
On 21 April, 2019, as Sri Lanka's 1.5 million Christians celebrated Easter Sunday, bombs ripped through churches and hotels in Colombo, Negombo, and Batticaloa, killing at least 350 and injuring hundreds.
When the little known National Towheed Jamaat claimed responsibility for the attacks, Sri Lanka had a choice to make. The government could investigate perpetrators and bring them to justice while ensuring the protection of minority rights, or it could hold the country's 2 million Muslims responsible for a crime they did not commit.
The government chose the latter, co-opting its Christian community's pain for a Sinhalese-Buddhist backlash. In the days and weeks after, Sri Lanka enforced internet blackouts and intermittent curfews, arbitrarily arresting Muslims, detaining hundreds without cause, and instituting a ban on burqas.
According to Human Rights Watch, the vast majority of arrests were made under the Prevention of Terrorism Act (PTA), a long-abused law that the government had pledged to the United Nations Human Rights Council to repeal.
Reports from human rights watchdogs allege that Muslims had often been arrested without any credible evidence of terrorist involvement, for reasons including possessing Qurans, having an expired passport, and in one particularly disconcerting instance, for the pattern on a dress. The pattern, police argued, belonged to Buddhists, not Muslims.
Emboldened by Islamophobia from the top, hate splintered. In May, mobs swept through Sri Lanka's north-western province, destroying hundreds of Muslim properties often with active participation from the police.
In June, Sri Gnanarathana Thero – Sri Lanka's most prominent Buddhist monk – called for a boycott of Muslim businesses before issuing a chilling ultimatum: "These traitors must not be allowed to live in freedom." A few weeks later, another monk, Gnanasara Thero called for the stoning of Muslims, claiming they were sterilising Buddhist women.
Far from being isolated incidents, these attacks illustrate the normalisation of Islamophobia as statecraft in Sri Lanka. According to a report from the International Crisis Group (ICG), in the months following Easter, Buddhist hardliners attacked more than 200 Muslim houses, businesses, mosques, and Quranic schools. For the most part, these attacks went unpunished.
No group epitomises the resurgence of Buddhist ultranationalism in Sri Lanka more than the Bodu Bala Sena or "Buddhist Power Force." The Bala Sena has long enjoyed the support of Sri Lanka's political elite; support it has leveraged to stoke anti-Muslim hatred with impunity.
Its founder, Gnanasara Thero has been consistently linked to hate crimes, and is on record threatening Muslims with violence – "if any Muslim lays a hand on us, that will be the end of them." Convicted in 2018 for contempt of court, the firebrand monk was granted a presidential pardon a week after last year's attacks. Days after, he set a deadline to the government to fire Muslim provincial governors, causing all of Sri Lanka's Muslim ministers to resign in protest.
Last November, Gotabaya Rajapaksa's election win marked a return to majoritarian politics for Sri Lanka. Nicknamed 'The Terminator' by his own family, Gotabaya has been accused of authorising "death squads" during Sri Lanka's civil war and overseeing the indiscriminate bombing of places of worship by government forces.
As Sri Lanka teetered after the attacks, Gotabaya campaigned on the promise of protecting Sri Lanka from the "Muslim threat" – a stance he reiterated in his inaugural address: "I made a special request to Tamil and Muslim people to be partners in this victory. But their response was not to my expectation." Shortly after, the newly elected President appointed an all-male cabinet with no Tamil or Muslim representatives.
For Sri Lankan Muslims, the early signs of the Gotabaya era are ominous. This past January, the government rolled back promises made to the UN to investigate allegations of war crimes in the country; and in March, Gotabaya dissolved Sri Lanka's Parliament six months before its term ended. Experts warn the premier's strongman leadership will continue to embolden hardliners at the expense of minorities.
As the novel coronavirus pandemic sweeps across the world, the government's indifference toward religious freedom for Muslims has surfaced with renewed force.
A new directive from the island's Ministry of Health mandates all victims be cremated, despite the World Health Organization (WHO) maintaining that bodies of victims "can be buried." This month, Sri Lanka cremated three Muslim coronavirus victims, in spite of protests from their families. Misinformation, too, is on the rise. Last week, claims circulated in Sri Lankan media that Muslims were ignoring a curfew to congregate in mosques. In reality, locals had been asked to come to the mosque to be tested for Covid-19.
Dr John L. Esposito, founder of the Center for Muslim-Christian Understanding at Georgetown University, tells me Easter is a time for joy and reflection, an occasion to forge collective strength from pain. The holy day signifies change – emphasising both the significance of Christ's sacrifice and embodying hope for resurrection for all Christians.
Last year, in Sri Lanka, that day of joy turned into an anniversary of death.
At this year's Easter Mass in Colombo, Cardinal Malcolm Ranjith underscored the need for reconciliation in the aftermath of terror – "We did not hate them, or return the violence. Resurrection is the complete rejection of selfishness."
As state sponsored terror bifurcates communities, the cardinal's words are a reminder that Sri Lanka's Muslims and Christians need each other now more than ever. For the island, peace is possible only if solidarity is allowed to blossom.