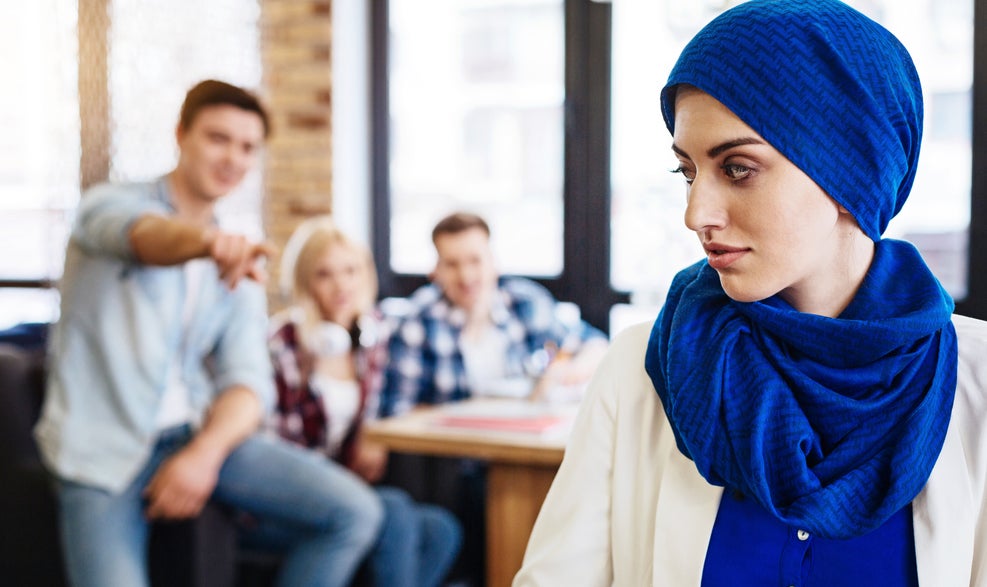 'American Muslim Poll 2022' Shows Islamophobia is Alive & Well
The Institute for Social Policy and Understanding (ISPU) recently released their 6th annual "American Muslim Poll 2022," supported by the Bridge Initiative, which provides a national snapshot of American Muslims (and people of other backgrounds) two years into the COVID-19 pandemic. With the November 2022 midterm elections right around the corner, the ISPU researchers interviewed people on a broad range of topics including ongoing economic struggles, continued racial inequity, gun violence, and an ever-growing partisan divide between Democrats and Republicans.
The American Muslim Poll 2022 report also measures the "Islamophobia Index" annually among several American faith groups and whether a change in presidential administration (from Donald Trump to Joe Biden who appointed the first female Muslim judge in America's history) changed anything at all. This survey also expanded the areas of study to cover not only "brick and mortar" acts of Islamophobia, but also analyzed social media and online spaces where Islamophobia and anti-Muslim sentiment continues to grow as well.
In terms of religious observance, the 2022 report found that 7-in-10 American Muslims told the researchers that religion is a "very important" part of their life, second only to white Evangelicals (83%). Both Muslim men and women were nearly identical in their respective viewpoints that religion is 'very important' to their daily life (71% of Muslim men and 69% of Muslim women) and Muslims of all ages were equally likely to rate religion as 'very important' to their daily life, suggesting that devotion to faith will endure into the next generation even for young Muslims.
For the last few years, the annual ISPU American Muslim Poll has also included the "National American Islamophobia Index," which is a measure of the level of public endorsement of five common negative stereotypical tropes about Muslims in general. The Islamophobia Index was created by ISPU scholars in partnership with Georgetown University's Bridge Initiative as a way to measure Islamophobia among both faith and non-faith groups in America from a scale of 0 to 100 (with higher scores representing stronger anti-Muslim feelings).
For the 2022 study, even though white evangelicals (30) and Catholics (28) scored the highest in terms of the Islamophobia Index, it is very interesting to note that American Muslims scored very high on Islamophobia (26) themselves and quite a bit higher than the Jewish American community who scored lowest at 17 out of 100. The ISPU researchers found that over time Islamophobia has "declined among other groups but has increased among Muslims" themselves. To illustrate this point further, Muslim scores on the Islamophobia Index have increased from 18 in 2018 to 26 in 2022 (with a six-point increase from 20 to 26 between the COVID-19 quarantine years of 2020-22 alone).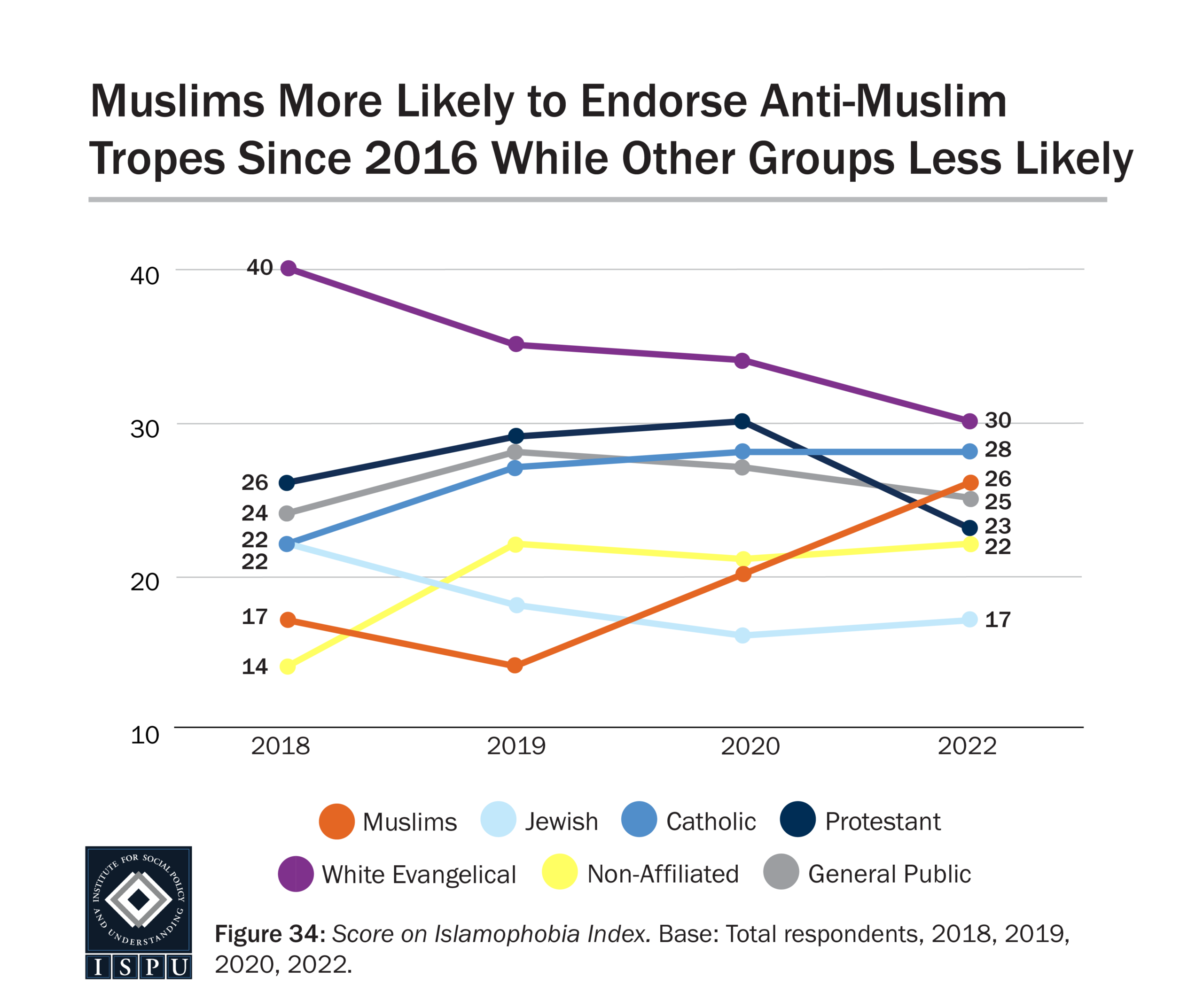 The ISPU researchers went even further to state that their analysis reveals that these higher Islamophobia Index scores among Muslims themselves are driven primarily by people who identify as "white Muslims". Two years ago, white Muslims showed increased Islamophobia with an index score of 27 in the 2020 ISPU report followed by an even larger increase in the 2022 report with a score of 40 (which is even higher than white Evangelicals [30] by a whopping ten points]. 
Although further research is needed to explain why there has been such a large increase in Islamophobia among white Muslims, the concept of "internalized" racism or bigotry is generally understood to mean endorsing negative stereotypes about one's own community. According to Professor Muniba Saleem from the University of California, Santa Barbara: "There are well-documented studies showing that minorities can internalize the negative stereotypes of their [own] group and that can influence their self-esteem, psychological distress, motivation, and performance."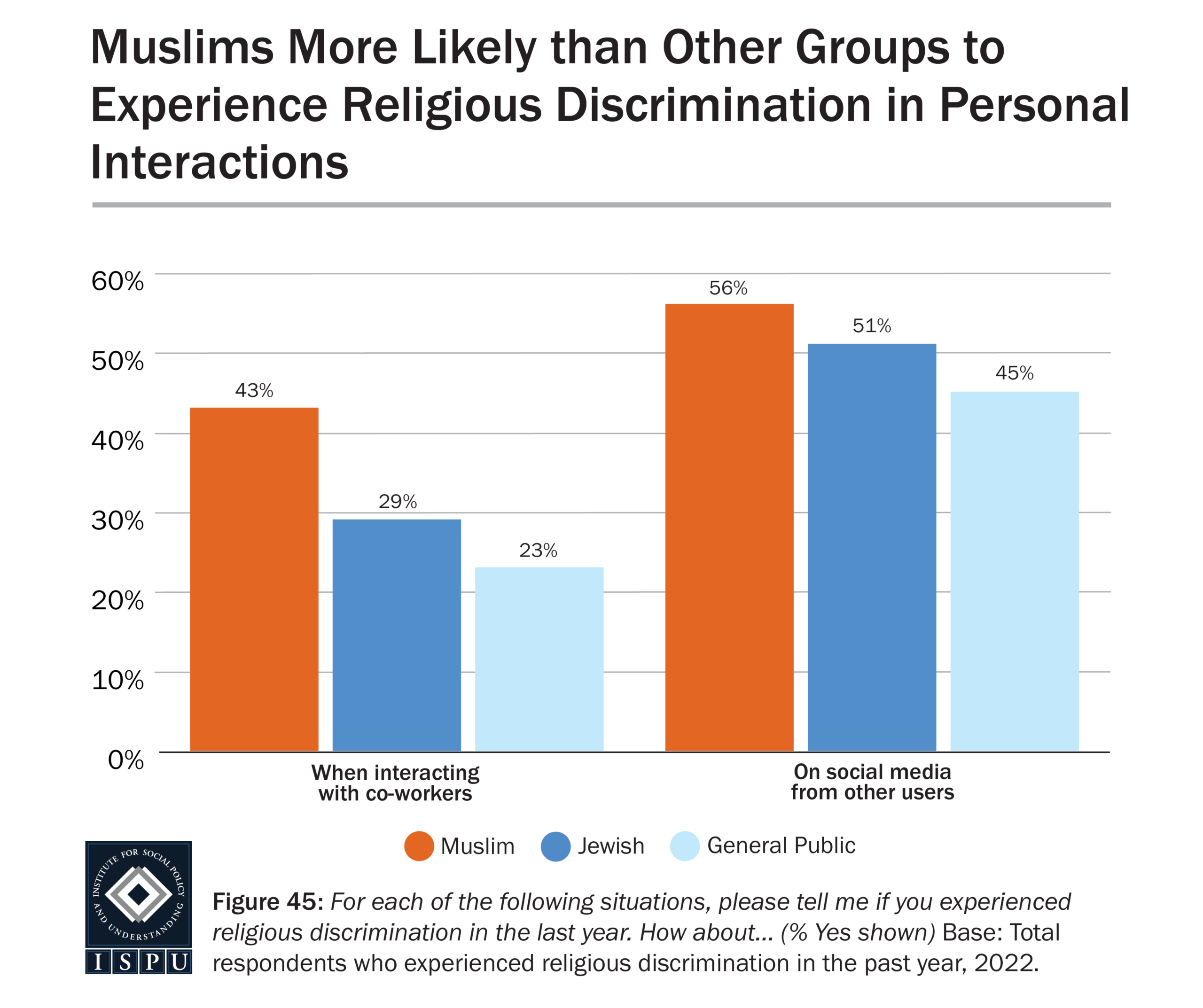 At the institutional level, the 2022 ISPU report found that Muslims were more likely than the general public to experience religious discrimination in the following institutional settings: when 1) Applying for a job (37% vs 6%), 2) Interacting with law enforcement (38% vs 10%), 3) Airport interactions (44% vs 3%), and 4) Healthcare interactions (27% vs 8%). 
The internet and social media platforms are another form of institutional discrimination examined for the first time in this report. Nearly half of American Muslims (46%) reported some form of anti-Muslim social media discrimination within the last year, including having postings summarily removed, accounts closed, and/or being kicked off a social media platform altogether (compared with 36% of the general public).
Even within the midst of growing Islamophobia, the American Muslim Poll 2022 found that Muslims in the United States are the most optimistic about the direction of the country compared with all other demographic groups surveyed (48% for Muslims vs. 31% of Jews, 24% of Catholics, 17% of Protestants, 4% of white Evangelicals, 17% of the nonaffiliated, and 18% of the general public). This overall positive outlook for 7+ million American Muslims will help the further integration of diverse Muslim communities as they continue to weave their way into the social fabric of the United States.
Arsalan Iftikhar is an international human rights lawyer, founder of TheMuslimGuy.com and author of the books Scapegoats: How Islamophobia Helps Our Enemies and Threatens Our Freedoms and FEAR OF A MUSLIM PLANET: Global Islamophobia in the New World Order.