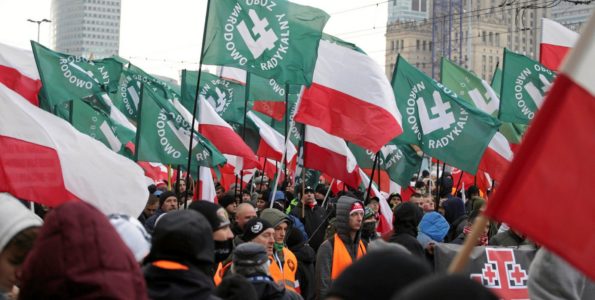 Converging Islamophobias in Europe: The Visegrad Four Countries and their Western 'Forerunners'
This op-ed by Bridge Initiative Senior Research Fellow Farid Hafez originally appeared in Maydan.
It was a weird moment: Shortly before the Austrian elections on 15 October this year, candidates of the then-winning parties, Sebastian Kurz of the Conservatives and Heinz-Christian Strache of the Freedom Party, verbally wrestled about who was more in favor of and in touch with the Hungarian prime minister Viktor Orbán:
Kurz says to Strache: "You don't even get an appointment"
Strache replies: "Believe me, we have met several times."
Kurz replies: "But I will make sure that you get an appointment."
This was not only a battle over symbolic power. The current foreign minister of Austria, Sebastian Kurz, did not only want to present his experience and his acceptance as a political leader in contrast to the oppositional far-right leader Strache. It was also about who embraced one of Europe's bogeyman, the Hungarian leader Orbán, most. Specifically, they argued about his immigration policies and who was more likely to defend Austria's and the European Union (EU)'s borders against immigration. For the political elite, the figure of the immigrant is coterminous with Muslim and African. Immigration linguistically works as a signifier for Muslim invasion of an imagined white, Christian continent; the West.
Matti Bunzl argued in his 2005 essay in the American Ethnologist titled "Anti-Semitism and Islamophobia: Some Thoughts on New Europe" that Islamophobia was a phenomenon of the present, marshaled to safeguard a supranational Europe. With the declining importance of the nation-state, says Bunzl, Islamophobia threatens to become the defining condition of the new, unified Europe. That is, Western Europe, that received most of the attention when it comes to any conversation about Europe. As we will see below, however, Islamophobia is as rampant in Central and Eastern Europe.
A Late Wake-Up Call: Taking Poland and Germany as A Source of Comparison
What happened this year on November 11 "" commonly referred to as "˜Independence Day' in Poland ""attracted global media attention." In the past, it was known as a day for government officials and political leaders to commemorate the reinstatement of sovereignty at the end of World War I. For political leaders, it is a celebration of the re-birth of Poland in November 1918, after Poland had been erased from the political map after Prussia, the Habsburg Monarchy, and Russian empires had divided Poland among themselves. Numerous high-ranking politicians took part in this year's commemoration, ranging from former Polish prime minister and today's European Council President Donald Tusk to the Polish President Andrzej Duda. But what made this annual meeting a rallying cry for anti-Muslim racism in the heart of Europe?
The Polls
Although Muslims in the Visegrad Four countries (an alliance between Hungary, Poland, Slovakia and Czech Republic) form negligible minorities, Islamophobic attitudes there are amongst the highest throughout Europe. This only confirms the long-established theory that racism is a projection of the dominant society's own fears and wishes. According to a survey published by Pew Research Center in April 2015, in Poland, Hungary, and the Czech Republic, the Muslim community does not exceed an estimated 0.1 percent and in Slovakia comprises only 0.2 percent of the total population. At the same time, according to a Pew Research Center study published in July 2016, the most negative views on Muslims can be found in eastern and southern European countries. The highest number of unfavorable views can be found in Hungary (72 percent of respondents), followed by Italy and Poland with 66 percent. Additionally, 37 percent of Hungarians and 35 percent of Poles (only Italy with 46 percent showed more) believe that Muslims are favorably inclined towards extremist groups. Negative views on Muslims in both countries even surpassed that of the Roma group (72 percent vs. 64 percent in Hungary and 66 percent vs. 47 percent in Poland), while older data on Poland reveals the opposite.
In this context, a survey conducted by the Chatham House (The Royal Institute of International Affairs) shows that public opposition to any further migration from predominantly Muslim states is also wide-spread in European countries. Together with Belgium, Hungary rated third highest country where support for stopping immigration from Muslim countries stood at 64 percent of respondents, followed by Austria with 65 percent. The highest was Poland with 71 percent.
There is no data on Slovakia and the Czech Republic in this survey, but the World Values Survey reveals that rejection of Muslims is also widespread in these two countries. In fact, both countries ranked highest in their anti-Muslim attitudes. In the Czech Republic 45.5 percent and in Slovakia 68.4 percent of respondents stated that they refused to have Muslims as neighbors (compared to 25.7 percent in Poland).[1] In the Czech Republic, Muslims (identified as Arabs) are the second least-liked group right after the Roma minority.[2] To conclude, the data reveals a high potential for the emergence of anti-Muslim mobilization.
Mobilizing Racism
While, traditional right-wing extremist parties such as Hungary's Jobbik also started adopting an Islamophobic agenda, the Islamophobia that challenged many established traditional Western political parties was soon co-opted by leading figures of the ruling parties in the four Visegrad countries. Especially in the course of the so called "refugee crisis" in summer 2015, when the "debate on Islam became one of the most prominent and omnipresent topics in Hungarian media and politics",[3] the centrist-right ruling party Fidesz (a member of the European People's Party) coopted this issue. Prime Minister Orbán argued that the quota system would "redraw Hungary and Europe's ethnic, cultural, and religious identities, which no EU organ has the right to do."[4] In Hungary, the language used very much resembles anti-Gypsy and anti-Semitic language. And while the latter are considered taboo in mainstream media, anti-Muslim rhetoric has become mainstream.[5]
In Poland, the ruling center-right "Poland's Law and Justice Party" (PiS) has been the most successful party on a national level. In 2015, it referred to the so called "˜refugee crisis' as a "Muslim invasion."[6] In the Czech Republic, right-wing populist parties mobilized against the construction of mosques much like their counterparts in Western countries. The Republic's social democratic president Milos Zeman argued that the influx of refugees was due to an agenda of the Muslim Brotherhood, who would conquer Europe by what is often referred to in the Islamophobic discourse as "˜demographic Jihad.'
Unlike other countries of the Visegrad Four, where dominant centre-right parties adopted anti-Muslim discourse, in Slovakia a traditional right-wing populist party, L'SNS, that has enjoyed electoral success is a significant political force. During the so-called "˜refugee crises', the L'SNS decided to follow an anti-elitist, anti-EU, and anti-Muslim politics. In 2016, its electoral program proclaimed that Slovakia was flooded by "hordes of Muslim immigrants," who "cannot and do not want to accommodate to our laws and social norms."[7] But here too, Islamophobia is home to the mainstream political discourse. Prime minister and social democrat Robert Fico argued that "Islam is not compatible with our culture"[8] after the terrorist attacks in Paris and Brussels in 2016. It is noteworthy that while Robert Fico was threatened with suspension and eventual exclusion by the EU-wide Party of European Socialists (PES) due to his Islamophobic remarks shortly before he obtained the rotating EU presidency, little similar initiatives were taken by the European People's Party (EPP) to protest Fidesz and KDNP in Hungary on the ground of its racist statements towards Muslims.
Islamophobia: The Accepted Form of Racism
But is this strategy of co-option of Islamophobic populism unique to the East of the EU, in this case to the Visegrad Four Group? A careful examination of the broader European landscape suggests that is not the case. Even when we examine the  political landscape in Germany, , where right-wing populist parties were absent from the national parliamen, the Bundestag, for a long time it becomes apparent that right-wing populism as a political strategy has long been part and parcel of German politics. Angela Merkel has openly suggested a full-face veil ban as have other right-wing populist parties done in Europe.
And social democratic banker Thilo Sarrazin's best-selling book Deutschland schafft sich ab [Germany abolishes itself] revealed the wide spread acceptance of anti-Muslim racism within the German public. Indeed, the co-option of Islamophobic populism by political parties of the so-called mainstream is much older than it is the case with political leadership in the East of the EU. But there are still some significant differences between the two cases:
In the more Western states of the EU, Islamophobia has partly become the accepted form of blatant racism, while anti-Black and anti-Jewish racism are widely discredited in the public space. This is not the case in other countries such as Hungary for instance, where the ruling government has started a fierce, simultaneously anti-Semitic and Islamophobic campaign against George Soros.
Second, Islamophobia carries a more direct implication for daily-lives of Muslims who live in Western Europe, where they comprise higher ratios of the entire population. In Eastern European countries with negligible Muslim population, however, the target of Islamophobia is first and foremost the gaining, stabilizing and widening of the Islamophobes' power.
And it seems the rise of Islamophobia in political discourse in these four countries in Eastern Europe produces other, significant processes that attempt to give this region its own stamp.
Read the full article here. 
[1] Vlado Miheljak (2006). "Slovenia in Central Europe. Merely meteorological or a value kinship?", in Dieter Fuchs, Hans-Dieter Klingemann, Jan Zielonka (eds.), Democracy and Political Culture in Eastern Europe, New York: Routledge, (119-147), 139.
[2] Donatella Bonansinga (2015). The Role of Public Discourse in Threat Framing: The Case of Islamophobia in Czech Republic. International Journal of Arts & Sciences, 08, 2015 (107″"118), 111.
[3] Zsolt Sereghy (2017): Islamophobia in Hungary: National Report 2016, in: Enes Bayraklı & Farid Hafez, European Islamophobia Report 2016, Istanbul, SETA, 2017 (255-272), 258.
[4] Ibid., 264.
[5] Ibid., 269-70.
[6] Konrad Pędziwiatr (2017): Islamophobia in Poland: National Report 2016, in: Enes Bayraklı & Farid Hafez, European Islamophobia Report 2016, Istanbul, SETA, 2017 (411-442), 422
[7] Alena Kluknavská & Josef Smolík (2016). We hate them all? Issue adaptation of extreme right parties in Slovakia 1993-2016. Communist and Post-Communist Studies 49, 2016, (335-344), 339-342.
[8] Monika Zaviš (2017): Islamophobia in Slovakia: National Report 2016, in: Enes Bayraklı & Farid Hafez, European Islamophobia Report 2016, Istanbul, SETA, 2017 (515-529), 522.